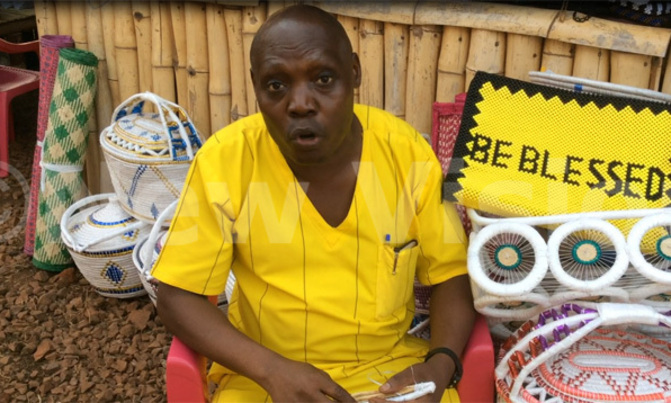 Kasirye is providing for his family from the fruits of his sweat while in detention.
Hamza Kasirye 46, has been in Kirinya Prison in Jinja district for 21 years, but his children have never spent a day without food or lacked school fees. It is not because Kasirye is rich, has wealthy relatives or left assets to provide for his family.

Kasirye is providing for his family from the fruits of his sweat while in detention.


How he ended up in jail

Kasirye, who was then a special hire driver in Mukono district ended up in prison after robbers approached him at his work place and asked him to take them to Jinja which he accepted.

While in Jinja, the men got out of the car and asked Kasirye to wait at some point, they later returned with a huge luggage and requested him to put it in the boot and drive to Mukono. On their way back, they were intercepted by police leading to arrest and subsequent prosecution.

"I was forced to leave behind a wife and four children when three men approached me at the special hire stage and asked me to drive them to Jinja. Little did I know that the men were highway robbers heading for a mission," Kasirye narrates wistfully.


In 1995, Kasirye then 27 years old, watched crestfallen as the High Court of Kampala read his sentence that sent him to the gallows.

"I was a victim of a miscarriage of justice and because my lawyer was inefficient, I spent 10 years on death row because I could not convince court beyond reasonable doubt that I was not part of the robbery," says Kasirye.

"I didn't expect a death sentenced since I never participated in the robbery but I was convicted because I failed to convince court beyond reasonable doubt that I was not part of the robbery but the men had just hired me to take them to Jinja," Kasirye painfully narrates.

Despite his criminal record, Kasirye is remorseful about his actions for having transported wrong people which led to his incarceration.

But as luck would have it, on June 13, 2005, Kasirye's sentence was commuted to life imprisonment when Susan Kigula and 417 death row inmates petitioned the Constitutional Court against the death penalty.

The Constitutional Court ruled that prisoners, who have been on death row for more than three years should have their sentence commuted to life imprisonment. Having spent 10 years on death row, Kasirye's sentence was commuted from death to life imprisonment without remission.


Getting into crafts making

Before his transfer to Kirinya prisons, Kasirye knew nothing about crafts but now he's an expert in that field. As the bread winner, Kasirye chose not to twiddle while his children faced the risk of dropping out of school due to lack of school fees.

He started by learning how to make beads from the tutors brought in by the prison authorities. Kasirye made beautiful beads that several people who visited Kirinya Prison loved. He then used this opportunity to make beads on a commercial scale.

Kasirye used the sh 30,000 he had come with to prison to buy raw materials to start the craft project. He purchased varnish, paper, strings, and glass beads.

Prison regulations restrict prisoners from entering prison in possession of any currency. However, prison authorities are mandated to open up accounts for prisoners and permit them to make requisitions for items they require from the same accounts.

Kasirye estimates his stock's worth at sh4m and has managed to deposit sh4m on his prison's savings account.

Today, Kasirye makes baskets beads and bracelets. He makes ten baskets every month and says each basket costs sh10, 000. He makes 40 beads a month and each bead is sold at sh1, 300.

Challenges Kasirye faces while making crafts

"Previously, I did not know where to get raw materials. Secondly, the capital was too little and having ventured into the business for the first time, we were not sure of the market for our products. I have been able to make savings and increase my capital. I have also managed to find market for my products, thanks to the prison authorities," Kasirye recounts.

Since Uganda Prison's Service does not have an official workshop anymore, Kasirye works from his prison cell, which is inconveniencing given the space limitation. Prison does not have a show room where clients can go and buy these items which adversely affects sales.

Future Plans
Kasirye, who will be completing his sentence in 2019, intends to continue with making crafts upon discharge. But considering the years spent in prison, he cannot get employed because people still think he is a criminal. However, if he has startup capital he can open a workshop.

Currently, Kasirye's works are available at Kirinya Prisons in Jinja. Alternatively, you can contact Prison's authorities.

Achievements

Kasirye says it is not easy to convince the public that rehabilitated former inmates are useful to society but we are good people who have attained quality education in prison. Some districts never have first grades in O-Level yet we get them behind bars.

While in prison, Kasirye then a primary six drop out was transferred to the Condemned Section, where he found an established school and enrolled, years later, he managed to complete O and A level but could not continue with education since prison lacks university programs.

From the sale of his crafts, Kasirye has managed to put up a family house in Kireka as well as educate his four children that include his eldest daughter who is currently pursuing a bachelor's Law degree at Harvard University.


Who buys Kasirye's crafts?

Kasirye's customers include personnel from Non-Government organizations working with prisons, religious leaders attached to prison ministries, prison staff and religious ministries who happen to visit the facility.

He also had a chance to exhibit at the National Agricultural show in Jinja show grounds recently.

During 21 years he has spent at Kirinya Prisons, Kasirye has acquired skills in computer management in addition and attended courses in leadership and religious studies. He is currently training fellow inmates in computer programming and crafts making.