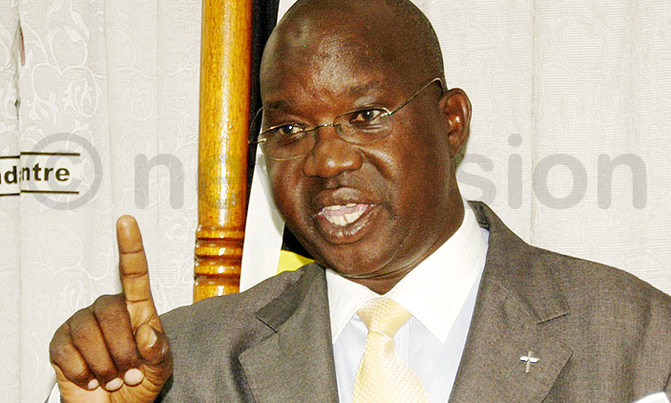 It will reportedly detect porn pictures, videos or graphics taken or saved on one's phone, computer or camera in any form
Ethics state minister Fr. Simon Lokodo's fight against pornography has taken a new turn after hre revealed that a detection machine will arrive in the country next month.
According to Lokodo, the sh300m machine will detect, control, and scrutinize porn on mobile handsets and other electronic devices.
He further added that the Government has already contracted a South Korean company that will supply it to Uganda upon the ministry receiving the budget of sh2.6b.
Part of the budget will aid the anti-pornography committee to monitor and implement the law.
"We have appointed the anti-pornography committee, but it had not been launched due to lack of finance, but the Government has now approved the money to activate the operations," Lokodo said.
Pastor Martin Sempa is on the committee that will conduct the implementation of the anti-pornography law.
It will detect porn pictures, videos or graphics taken or saved on one's phone, computer or camera in any form and those found guilty will be charged.
According to Act, Part (III) on prohibition of pornography under the anti-pornography law states that subsection (I) a person shall not produce, traffic in, publish, broadcast, procure, import, export, sell or abet form of pornography .
Subsection (2) states that a person who produces or participates in production of, traffics in, publishes , broadcasts, procures, import, exports or in any way abets pornography contrary to subsection (1) commits an offence and is liable ,on conviction, to a fine not exceeding five hundred currency points or imprisonment not exceeding 10 years or both.
It is established that people have taken advantage of social media platforms to expose and publish nude pictures to the public.
He further said that media houses that publish pornographic content will be closed upon investigations come September.
Meanwhile, the ministry is searching for the organizers of a party that was held at Sports Beach in Entebbe on July 24.
During the event many people reportedly took nude pictures which were shared on social media and some pictures were featured in different newspapers and TVs.
Speaking to New Vision at his office at Social Security House, Lokodo said his ministry has started the search for the people behind the beach party.
"While at Kyankwanzi, ministers were asking me about the party, it was bad to see pictures in our newspapers and perpetrators will be arrested upon investigations," Lokodo said.