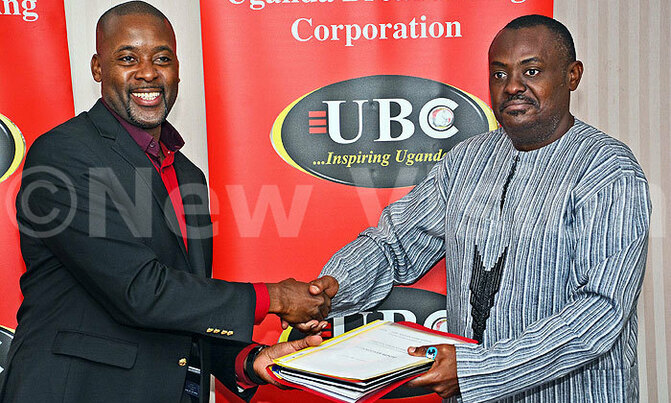 "For the broadcaster to gain its former glory, it is important to reduce the existing bureaucracy."
KAMPALA - The outgoing chairman of the Board of Trustees of Uganda Broadcasting Corporation (UBC), Nathan Igeme Nabeta, has said the broadcaster operates under an environment of bureaucracy.

And this, he said, is one of the major problems hindering the corporation from performing to its expectations.

He said the management must consult government authorities first for every single decision to be made in the running of UBC.

Nabeta said the broadcaster - the oldest in the country - takes long to reach certain decisions, which delays and affects performance.

"Save for limited resources, high levels of bureaucracy at UBC are hindering it from coping and competing with other media houses in the country," he told New Vision on the sidelines of a hand-over function at the UBC headquarters in Kampala.
Media analyst Simon Kaheru has taken over as new chairperson.

"For the broadcaster to gain its former glory, it is important to reduce the existing bureaucracy," said Nabeta, who resigned the position after being elected MP for Jinja East municipality.

After being appointed to the position by ICT and national guidance minister Frank Tumwebaze, Kaheru will now lead a board consisting of seven members.

As he received the instruments of power, Kaheru pledged to dedicate his full energies to continuing from where Nabeta has stopped.

"The worst days of UBC are well behind us," he said.

"The board and management of UBC are keenly aware that the process of change for a big organization like UBC does not happen overnight. He [Nabeta] has laid a good foundation for us to continue with this work, we shall do so with diligence."

Meanwhile, Nabeta looked back at his time in charge.

"Though it has not been easy given the circumstances under which we took over UBC, my board has done its best to make it a better place. As I exit, I am happy that UBC now has a good substantive management team in place, and certain that they can, together with the board under the new chairperson, put UBC where it ought to be."

The departing chair also refuted claims that opposition parties were denied airtime during the February 2016 general elections.

"UBC did not have any policy whatsoever denying any political candidate airtime; politicians just did not come to UBC."
Kaheru has been seen as the ideal replacement for Nabeta. (Credit: Miriam Namutebi)

On his part, Winston David Agaba, UBC's managing director, said Kaheru is a perfect replacement for Nabeta.

"His excellent communication skills and a flame for new technology communication make Kaheru an ideal choice to advance UBC as the national broadcaster looks to accomplish the national digital migration," he said.

Until the early 2000s, the state-run channel had virtually no competition, but since then several new channels have been introduced, with some taking over UBC's lead in viewers.

In October last year, GeoPoll's Audience Measurement Service found that Bukkede1, which is part of Vision Group, was the most popular TV station, with an average of 651,000 viewers per half hour time block, followed by NTV.

Urban, UBC, and NBS rank 3rd-5th in terms of viewership, all with less than 220,000 viewers per half hour.