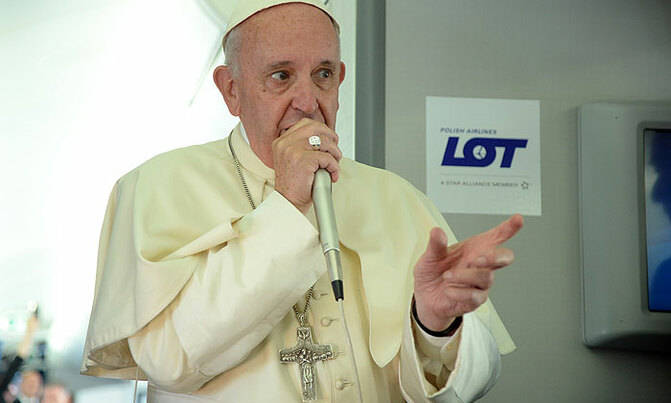 "In almost every religion there is always a small group of fundamentalists. We have them too."
Pope Francis said Sunday that Islam could not be equated with terrorism and warned Europe was pushing its young into the hands of extremists.

"It's not true and it's not correct (to say) Islam is terrorism," he told journalists aboard the papal plane during the return journey from a trip to Poland.

"I don't think it is right to equate Islam with violence".

Francis defended his decision not to name Islam when condemning the brutal jihadist murder of a Catholic priest in France in the latest of a string of recent attacks in Europe claimed by the Islamic State (IS) group.

"In almost every religion there is always a small group of fundamentalists. We have them too."

"If I have to talk about Islamic violence I have to talk about Christian violence. Every day in the newspapers I see violence in Italy, someone kills his girlfriend, another kills his mother-in-law, and these are baptised Catholics."
People attend a Mass in tribute to priest Jacques Hamel in the Rouen Cathedral on Sunday. (AFP)

The pontiff was speaking after Muslims attended Catholic mass in churches around France on Sunday in solidarity and sorrow following the murder of the priest, whose throat was slit at the altar of his church.

In an echo of remarks made during his five-day trip to Poland for a Catholic youth festival, Francis said religion was not the driving force behind the violence.

"You can kill with the tongue as well as the knife," he said, in an apparent reference to a rise in populist parties fuelling racism and xenophobia.

He said Europe should look closer to home, saying "terrorism... grows where the God of money is put first" and "where there are no other options".

"How many of our European young have we left empty of ideals, with no work, so they turn to drugs, to alcohol, and sign up with fundamentalist groups?" he asked.

POPE'S FINAL DAY IN POLAND
At the end of the Catholic World Youth Day in Poland on Sunday, Pope Francis arrived in his popemobile at Campus Misericordiae (Field of Mercy) in Brzegi near Krakow to hold a holy mass
Nuns and clergy celebrated his arrival. At least 2.5 million pilgrims from around the world attended the mass with the pope on the final day of the global Catholic youth festival
Here, Pope Francis is seen conducting the final Mass of his week-long tour at Campus Misericordiae (Field of Mercy) in Brzegi near the Polish city of Krakow. AFP/Osservatore Romano)
A large view of the altar during the holy mass. Pope Francis was in Poland for the international Catholic youth festival with a mission to encourage openness to migrants
Pope Francis gave a symbolic flame to a representative of Africa during the holy mass
It turned into a rainy, windy day as pilgrims left after the mass
Meanwhile, the pope blessed a statue of Our Lady of Loreto during the blessing ceremony of new houses for the poor and elderly built by Catholic charity Caritas. (AFP/Osservatore Romano)
Also on the last day of the festival, Pope Francis met with WYDs volunteers at tauron arena in Krakow
Archibishop of Panama Jose Domingo Ulloa (2L), cardinal Jose Luis Lacunza (2R) and bishop Manuel Ochogavia (R) of Panama attended a press conference at tauron arena
People were seen behind confetti as they celebarated Panama for hosting the next Catholic World Youth Day
And then it was time for Pope Francis to say goodbye to Poland. Here, is pictured waving to the crowds as he arrived at the airport Balice to fly back to Rome
He boarded the plane after wrapping up an emotionally charged trip
'GOODBYE POLAND!'
On the plane, the pope watched as Father Federici Lombardi cut a cake to celebrate his retirement during a press conference
What a way to end a week-long trip!