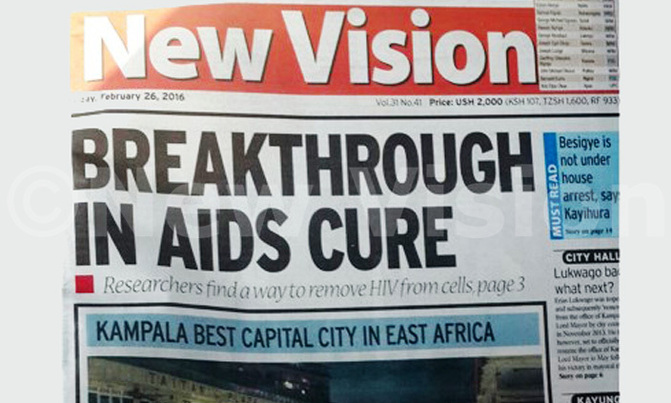 The panel was discussing the topic entitled: 'Hope vs. Hype in Reporting HIV Cure Research: Advice for Journalists, Bloggers and Concerned Consumers of the Media'
In Durban,
The New Vision newspaper was applauded for good science reporting.
This was during a panel discussion about HIV Cure research at the just concluded AIDS 2016 International conference in Durban South Africa.
The panel was discussing the topic entitled: 'Hope vs. Hype in Reporting HIV Cure Research: Advice for Journalists, Bloggers and Concerned Consumers of the Media'
Kay Marshal from the New York based Aids Vaccine Advocacy Coalition said that she carried out a research survey about perceptions of an HIV cure in the media but found a lot of misleading information.
"All the paper we sampled carried headlines that were only aimed at hyping the story instead of informing the public accurately and factually," Kay said.
She added that only New Vision carried a headline that was not so hyping and was thoroughly edited and carried all the science and the details factually without misleading the public.
The presentation captured the front page of New Vision that read: 'BREAKTHROUGH IN AIDS CURE' and the heading for that slide was: 'Rare front page cure news in an African paper'. This story was a wire story taken from the presentation at CROI 2016.
They compared that headline in New Vision and the general content of the story with newspapers from Europe and America and found that New Vision had a better headline which was not too much hype and also found that the content was better edited and factually and well presented.
Some of the other headlines they compared New Vision with included the following: "Cure for HIV Possible "Within Three Years" (Daily Telegraph, UK); "Gilead Science May Have Found a Cure for HIV" (The Motley Fool, US-based investment news); "Misleading News Reports Suggest HIV Cure in Near" (POZ Magazine, US);
The panellists however said that New Vision would have been even better if it put the word research in the headline so as to become ''BREAKTHROUGH IN AIDS CURE RESEARCH'


The panel called for responsible media reporting about the HIV cure research and advised that all articles about HIV cure research results should include perspectives and quotes from independent scientists not involved in the study or studies being reported, be skeptical about any articles making claims about timelines, always cite the original science paper, avoid inflating research results and avoid speaking about "HIV cure" by itself - always include the word "research".
Other members of the panel included Yvette Raphael, APHA, South Africa, Karine Dubé, Adjunct Faculty UNC-Chapel Hill, USA, Anna Miti, journalist and advocate, Zimbabwe, Michael Louella, defeat HIV CAB, Seattle, USA and Ida Jooste, from Internews, South Africa.
AIDS 2016 in Durban was remarkable because;
More than 15,000 participants attended the conference from 153 countries
157 sessions and workshops on the latest in HIV science, programmes and advocacy
6 plenary sessions featured leaders and experts from all walks of life
992 volunteers contributed their time and energy
More than 800 media delegates reported from the conference
933 delegates attended thanks to an AIDS 2016 scholarship
130 clinicians and 80 advocates participated through the IAS Educational Fund
135 exhibitors showcased their work in the Global Village and Exhibition
128 satellite sessions were held by partner organizations
42 awards and grants were announced for researchers, organizations and companies
6,000+ AIDS 2016 mobile apps were downloaded from the App Store and Google Play
33,934 people visited the AIDS 2016 website during the conference
More than 144,000 tweets were published on the #AIDS2016 hashtag
726,268 people were reached by posts on the AIDS 2016 Facebook page.