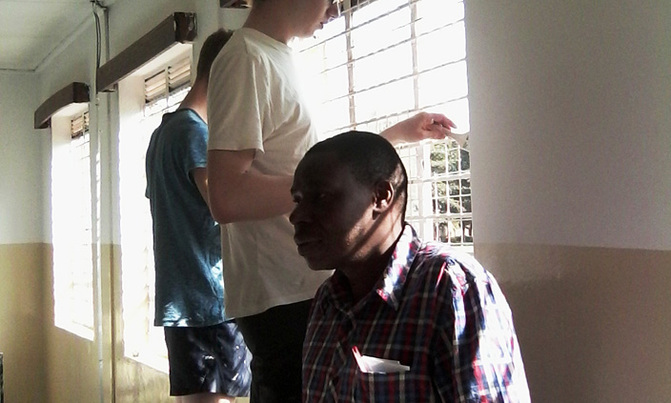 The volunteers also took time to do painting, wiring, fitting broken glasses and replacing worn out ceiling boards.
In Uganda today, education is still the lifeline of both rural and urban areas. For schools where children have their meals under trees a lot is about to change.

Private Mulijbhai Madhvani (PMM) secondary school, a government-aided school under Madhvani foundation is one of these.




The Jinja-based school was visited by a team of volunteers from the UK last week who donated four new computers and 30 textbooks for economics and mathematics. They also helped construct a 50-seater shelter where the students can take their meals from.

The volunteers also took time to do painting, wiring, fitting broken glasses and replacing worn out ceiling boards.

According to a thankful Immaculate Epenu, the school administrator, the school now has 40 computers for the population of 550 students.

"The contributions have given the school a fresh look. The books in particular will motivate students and staff to read, attract more students to join PMM and also improve the quality of education," she said.
The blossoming partnership

At the hand-over of the items, Epenu explained that PMM has had a partnership with the St Thomas Rich's School in Gloucester in United Kingdom for years.

"We have a good 12 year old partnership under which we have an exchange programme where 15 students and three teachers come to Uganda and one member of staff goes to the UK. We do this every two years. Our students also get scholarships," she said.


One unique addition to the school is the 50-seater dining which according to Epenu is the new option for the students who used to sit under trees while having meals.

"We hope that as a government-aided school we should be able to have modern facilities in addition to this," she added.

She also noted that they need more support from government to acquire a new school bus after the old one was dumped.

"We need a bus for the students. For the teachers, we would be assisted if government built staff quarters for us. Out of the 40 staff members only eight have accommodation at school," she said.

The event climaxed with different sports activities where students were awarded with prizes, which included cups, flasks and trophies.

What students say about the development

"I am studying ICT and the new computers will give me an even better learning atmosphere." Grace Victor Nakello, Senior Five



"This group has given me a number of gifts including scholastic materials like calculators, books, pens and textbooks. That has improved my learning experience." Patience Kaidhu, a Senior Four
"Since my father does not have to pay a lot for my education now that am in PMM, he is able to support my siblings." Barbara Amongin, Senior Five

"I will do all my research work on the new computers because and also endeavour to learn more about computers." Suzan Mukebezi, Senior Five

"As students we raise funds through selling cupcakes at our fundraisers. That is how we raise funds to pay school fees for 20 students every year and also purchase different items that we give to the school." John Buttle, a teacher from St Thomas Rich's school in Gloucester in the United Kingdom.