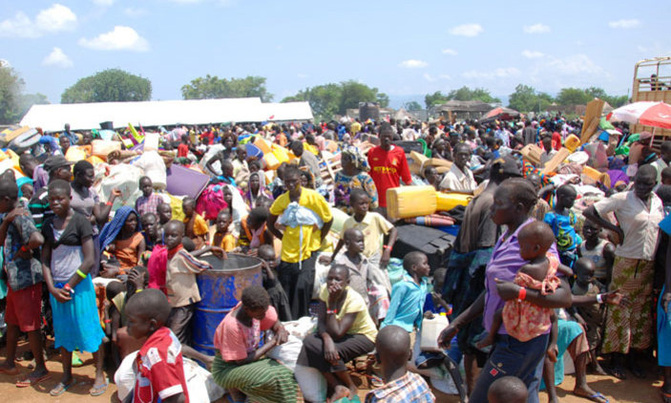 "At its peak, more than 11,000 refugees were staying in Elegu, northern Uganda, in a compound equipped to shelter only 1,000 people.
Over 35,000 South Sudanese refugees have crossed to Uganda, following the fighting in South Sudan that broke out on 8 July between rival factions loyal to Salva Kiir and Riek Machar.

However, according to a press release from UNCHR, the influx is putting serious strain on the capacity of collection points, and transit and reception centers, which are too small for the growing number of arrivals. During the course of the weekend, humanitarian organisations worked to decongest the collection points, as well as installing temporary shelters to increase capacities.

"At its peak, more than 11,000 refugees were staying in Elegu, northern Uganda, in a compound equipped to shelter only 1,000 people. Many of the refugees have been moved to the Nyumanzi Transit Centre where they are receiving hot meals, water, shelter and other life-saving assistance, while others have been taken to expanded reception centres in Pagirinya," read the press release.

A new settlement area has been identified in Yumbe district that looks set to have the capacity to potentially host up to 100,000 people. Temporary communal shelters are also being constructed to accommodate the continuing arrivals.

According to the press release, the humanitarian response to the influx of South Sudanese refugees is sorely lacking due to severe underfunding.

"The inter-agency appeal is only funded at 17 per cent, which is constraining UNHCR and its partners to provide emergency and life-saving activities only and causing limitations to the full breadth of humanitarian assistance that can be offered," reads the press release.

In the past three weeks there have been more refugee arrivals in Uganda than in the entire first six months of 2016 (33,838). On Monday, an estimated 2,442 refugees were received in Uganda from South Sudan.

1,213 crossed at the Elugu Border Point in Amuru, 247 in Moyo, 57 in Lamwo, and 370 in Oraba. Another 555 were received in Kiryandongo Settlement. The majority of arrivals more than 90 per cent were women and children.

Furthermore, daily arrivals were averaging around 1,500 ten days ago but have risen to more than 4,000 in the past week.

South Sudan's conflict, which erupted in December 2013, has produced one of the world's worst displacement situations with immense suffering. Inside South Sudan, some 1.69 million people are displaced internally, while outside the country there are now 831,582 South Sudanese refugees, mainly in Ethiopia, Sudan, and Uganda.