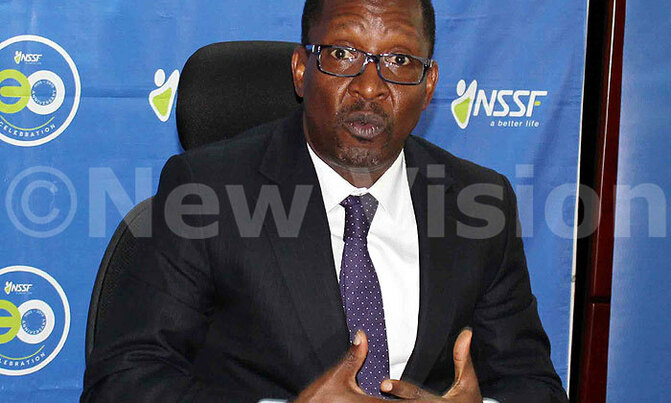 MD Richard Byarugaba says there is no provision they can base on to bail out struggling companies.
PIC: NSSF managing director Richard Byarugaba

KAMPALA - The National Social Security Fund (NSSF) has refuted allegations that it intends to give out some workers' funds to the government to be extended to over 60 companies which have requested for a government bailout because they are experiencing financial troubles.

Last week media reports indicated that local investors including Simba Group owned by Patrick Bitature, Hotel Sejovalo located along Rubaga road, Roofings Ltd on Entebbe Road, Club Silk in industrial Area, Steel Rolling mills, among others need a total of over sh1 trillion to reinvest in their businesses to avoid shutting down.

The managing director of NSSF, Richard Byarugaba said that under the Uganda Retirement Benefits Regulatory Authority Act 2011, the Fund is barred from investing in any company which is not listed on the Uganda Securities Exchange (USE) as a known profit-making company.

Byarugaba said the law also bars them from investing in any individual business entity since they can easily collapse with the workers funds.

On its part, the Central Bank has refused to relax the current regulations governing lending by commercial banks, in response to a proposal by the Government to relax the regulations as part of a package of measures to rescue financially distressed local companies.

Byarugaba assured all persons saving with NSSF that there is no provision which they can base on to bail out struggling companies even if the government approaches the pension body for financial assistance.

Meanwhile, state minister for finance in charge of microfinance Haruna Kasolo wants government to bail out local investors suffering with bank debts to save their companies from running bankrupt.

Kasolo says government is doing the right thing to extend incentives to local investors because foreign companies have always benefited from the same which is unfair to Ugandans.

He, however advises that incase this is to happen, loans should be fronted instead of free cash because it might propel others who are not in dire economic conditions to also ask for assistance from government.