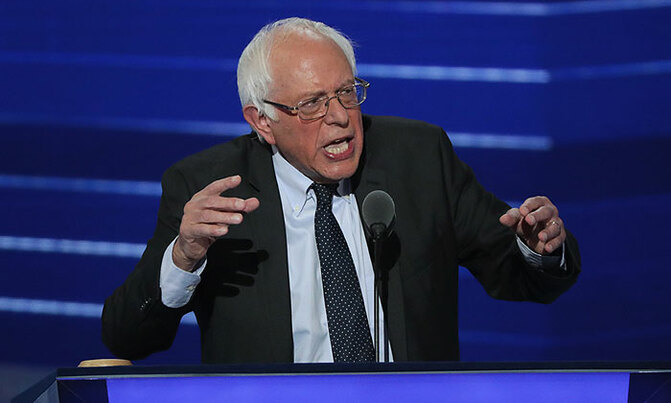 "This election is about which candidate understands the real problems facing this country and has offered real solutions."
PIC: Bernie Sanders says this election is not about just name-calling and divisiveness. (AFP)

Vanquished White House hopeful Bernie Sanders on Monday told a riven and lively Democratic convention that his rival Hillary Clinton must win the US presidential election in November.

To cheers and some boos, Sanders said that "based on her ideas and her leadership," Clinton was a better choice than Republican nominee Donald Trump and that she "must become the next president of the United States."

"The choice is not even close," Sanders was to say, according to his prepared remarks released to reporters. But he stopped mid-sentence when he addressed the convention, as his supporters cheered.

"This election is about which candidate understands the real problems facing this country and has offered real solutions -- not just bombast, not just fear-mongering, not just name-calling and divisiveness," Sanders, 74, told the convention in a lengthy speech in which he highlighted some of the accomplishments of his insurgent campaign.
Democrat Hillary Clinton will become the first female president in US history if she beats her Republican rival Donald Trump

The endorsement was expected, and had already come from Sanders weeks ago when he campaigned alongside Clinton in New Hampshire.

But it appeared aimed in part to help quell the loud voices of Sanders supporters who had spent much of the day booing and shouting out their opposition to speakers as they expressed support for Clinton.

That mission was not thoroughly accomplished, however.

When Sanders closed his speech by saying "Hillary Clinton will make an outstanding president, and I am proud to stand with her tonight," a smattering of loud boos was heard among the applause.

Sanders stunned the political world when his campaign, which began as a fringe effort by a self-described democratic socialist, earned broad grassroots support and gave Clinton a run for her money.

It became clear a few months after the primaries began that Clinton's momentum would carry her through to the nomination.

But Sanders's impressive showing helped him push through the most progressive Democratic Party platform in generations.

"Our job now is to see that platform implemented by a Democratic Senate, a Democratic House and a Hillary Clinton presidency -- and I am going to do all that I can to make that happen," Sanders said.

Throughout the campaign, Trump had said Sanders was being swept aside by a "rigged" system, but the brash billionaire accused Sanders of capitulating on Monday.

"Bernie Sanders totally sold out to Crooked Hillary Clinton," Trump tweeted before Sanders had finished speaking.

"All of that work, energy and money, and nothing to show for it! Waste of time."