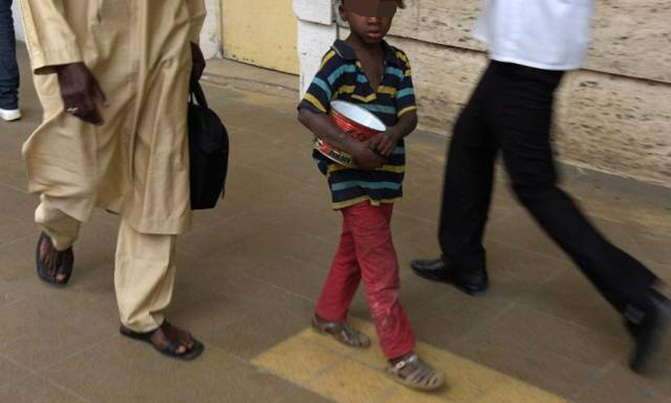 The children are from a mix of poor or homeless families and others known as "talibes" -- boys sent out to beg by Islamic tutors to make money for their boarding schools.
In recent weeks, packs of shoeless boys and girls have been coaxed off the streets where they have spent their childhoods, crying and frightened as they are loaded onto buses in the Senegalese capital Dakar.

The crackdown on child begging comes after years of inaction and is praised by children's groups but greeted with anger by powerful Islamic figures in the west African nation.

The children are from a mix of poor or homeless families and others known as "talibes" -- boys sent out to beg by Islamic tutors to make money for their boarding schools.

They are brought to Guinddi Children's Centre in the capital accompanied by social workers, where they are interviewed and checked for signs of maltreatment and disease.

"The children are generally unaccompanied. When they come here we ask them for the telephone number of their tutor or Koranic teacher and they give it to us," explained Maimouna Balde, director of the Guinddi centre.

Parents, or Islamic teachers known as "marabouts", will generally come and pick up the children themselves, Balde said, whereupon the centre's staff explain that if their charges are found on the streets again they will be prosecuted.

The operation will continue "for as long as there are children on the streets," she said.

- Profitable system -

With 270 street kids picked up in the first two weeks of July in Dakar, according to the authorities, the initiative is a long way from dealing with the 30,000 talibes estimated to be begging daily.

Often from poor rural families, the talibes are sent to Dakar and other Senegalese cities nominally to memorise the Koran, but are often left vulnerable to abuse and receiving little education.

Sometimes the journey home is long: on July 11 nine children were repatriated to neighbouring Guinea after being collected from the streets, according to one Guinean charity.

The current crackdown is the first time a decade-old law has been firmly applied, with parents or guardians of child beggars potentially facing two to five years in jail and fines of up to 2,000,000 CFA ($3,355).

"There are fattened calves hidden behind this education system to exploit children through begging, which is an easy and profitable business," Niokhobaye Diouf, national director of child protection services.

Parents of street children should be assessed to see if they could benefit from state welfare and health programmes to deter them from relying on their children's labour, he said.

Talibes are told to beg for food and money and not to return to their "daara" -- Islamic school -- until they have collected enough.

Even late at night in Dakar children only visibly out of kindergarten can be seen shaking empty tins of food, trying to get enough to be allowed to finish up for the day.

- Power of tradition -

Dealing with the systematic slavery of children in Senegal in this way has been attempted and then abandoned by the state several times before.

Until now, the power of tradition means few have been willing to challenge the marabouts, given their status and the respect they are afforded as Islamic scholars.

Muslim elder Sidy Lamine Niasse told journalists the government "doggedly pursued daaras" to "stigmatise and demonise" them.

But the schools have a long history of abuse: in February, the Senegalese authorities found 20 boys aged between six and 14 kept in chains by their marabout -- resulting in a rare prosecution.

Mustapha Lo, president of the national federation of Koranic schools, said the street sweep was taken without consulting Muslim educators and downplayed the concerns relayed by children's charities.

"The majority of us manage our Koranic schools without making the children beg on the streets. Some Koranic teachers do that because they lack any other financial means," Lo said.

Countering their arguments, Diouf said the government hopes to reform the daaras' curriculum while giving them a better level of financial support.

More than their education is at stake: the authorities want to avoid children falling prey to jihadist recruiters in the region, who are luring young men away with promises of riches and glory.