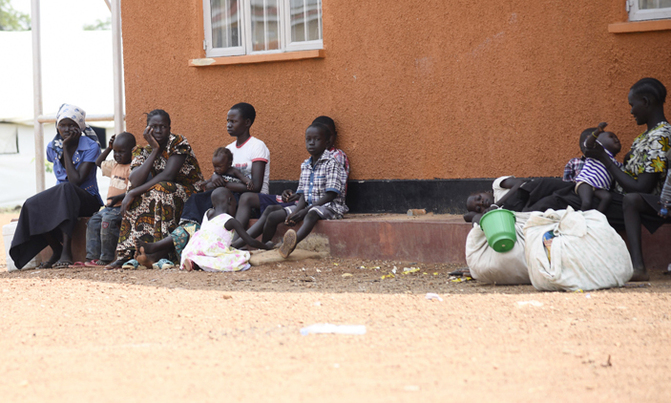 UNICEF has provided 2300 cartons of therapeutic foods to districts of Yumbe, Moyo and Arua to manage the children
Children, whose parents from war ravaged South Sudan are seeking refuge in Uganda, are facing severe acute malnutrition, due to poor feeding.
According to a report on the war situation in South Sudan, issued by the United Nations Children's Fund (UNICEF), five in every 100 children especially at the Elegu border, have severe acute malnutrition.
All under-fives among the new arrivals are being screened for malnutrition. UNICEF and its partner Concern Worldwide have provided additional two nutritionists to support UNHCR partner Medical Team International at Elegu border point to support the exercise," Catherine Ntabadde Makumbi a communications specialist with Unicef Uganda said in a statement.
Since the war broke out in South Sudan on July 7, a total of 14,887 refugees have been registered by the United Nations High Commissioner for Refugees (UNHCR). Out of these, 90% are women and children.
To control malnutrition among refugee children, UNICEF has provided 2300 cartons of therapeutic foods to districts of Yumbe, Moyo and Arua to manage the children with severe acute malnutrition.
UNICEF has also extended 13,000 doses of measles and 5,000 doses of Oral Polio Vaccines for immunization of children aged between 0-59 months at all border points of Arua, Koboko,Kiryandongo and Adjumani districts.
The international children's fund, is also procuring an additional 100,000 Polio Vaccines for immunization of the children. Children aged between 0-59 months entering the border points, will receive Oral Polio Vaccination doses, while those aged between 6 months to 14 years are receiving doses for measles.
However according to UNICEF, education infrastructure such as classrooms and teachers' accommodation, remains the biggest challenge, with 69 classrooms required for Maaji III and Pagirinya refugee settlements.
"Four tents have been erected by UNICEF and UNHCR partner Windle Trust, to act as temporary classrooms at Pagirinya settlement in Adjumani district. Some 15 more tents are still required to support the increasing influx," UNICEF noted.
The fund has also provided 215 early childhood development kits to Adjumani, Yumbe, Koboko and Arua districts, to support the on-going refugee influx into Uganda.
For sanitation purposes, UNICEF has drilled five boreholes in Pagirinya settlement, for use by refugees in the district of Adjumani.
Working with save the children, UNICEF and its partners are providing child protection interventions including identification and alternative care for the vulnerable children.
"Save the children has expanded its staffing capacity to register the increasing number of children in partnership with UNHCR and the office of the prime minister," says Ntabadde.
Speaking to New Vision on Wednesday, David Apollo Kazungu, the commissioner refugees, in the office of the Prime Minister, said that various camps have been set up within the country, to accommodate the increasing number of refugees.
He explained that the country receives between 200 to 300 refugees from South Sudan on a daily basis, adding that efforts are under way to ensure that they are all accommodated at different camps.