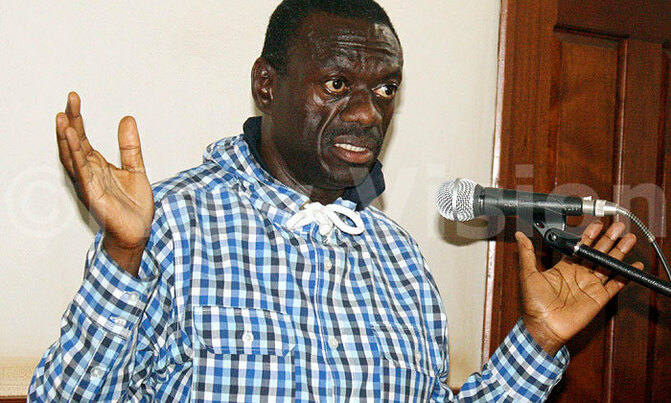 The opposition politician says he is willing to discuss with anybody on how Uganda can leap forward.
Former Forum for Democratic Change (FDC) flag bearer, Kizza Besigye has disputed allegations that he is opposed to meeting President Yoweri Museveni for dialogue on how to resolve the political impasse hovering over the country since the 2016 polls.

Contrary to criticisms that he is an impediment to dialogue, Besigye said that he was the first opposition politician to propose seating on a round table with the ruling government to discuss Uganda's future.

"We all know that the 2006 election was very hotly disputed and it is the basis upon which I suggested that our people can't continue like this and proposed that we have a discourse. We sent Justice James Ogoola to start making way on how to have the discussion.

I received a letter from State House inviting us for a meeting but when we wrote back on some of the issues, the response arrogantly said the meeting will be as per the invitation," Besigye said on a local TV morning talk show on Wednesday.

He said that he is more than willing to discuss with anybody on how Uganda can leap forward but dialogue can't be chaired on the principles of the 'problem' itself.

"Look here, I can't be the chair or moderator of the meeting and neither can it be Mr. Museveni because he is the problem himself. If he didn't cling on power for this long, maybe we would not be where we are right now," said Besigye.

Besigye and a section of opposition leaders have protested the results of the 2016 General Elections in which Museveni was declared winner with over 60% of the total votes tallied counted.

Former independent candidate Amama Mbabazi petitioned the outcome in the Supreme Court but it was dismissed for lack of evidence.

Subsequently, Besigye was arrested in May for allegedly committing treason a day to President Museveni's swearing in ceremony, when a video containing him carrying out a mock swearing in went viral.

Besigye was early this month released from remand in Luzira Prison on bail.

He argues that if there is to be dialogue, it should have a known agenda, a moderator, and an agreed venue and above all, a mechanism through which agreed positions can be implemented.

Government has occasionally maintained that there can't be dialogue because they were legitimately elected but government can work with interested opposition individuals.

"Besides the structure and format of the dialogue, there is also need for the protagonists to be convinced that the move is very important otherwise the deliberations would be cosmetic" Besigye added.

Tension a rift has emerged among opposition political parties following a meeting between President Museveni at State House and opposition parties DP and UPC under the auspices of the Inter Party Organization for Dialogue (IPOD) but FDC was conspicuously absent.

Besigye lashed out at opposition leaders for trying to negotiate his release from prison which sparked a bitter verbal exchange. FDC early this week tentatively opted out of IPOD.