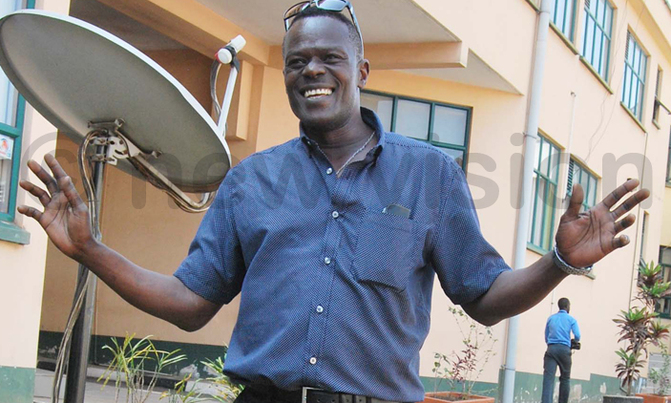 Capt. Richard Masembe was linked to the Peoples Redemption Army (PRA) rebel group
The former director of procurement in the Uganda Peoples Defence Force (UPDF) Capt. Richard Kabali Masembe who fled the country in 2001 is back home after 15 years in exile.
Masembe who returned to the country on June 11, 2016 was also linked to the Peoples Redemption Army (PRA) rebel group that wanted to launch war against the Government of Uganda.
He could not hide his excitement during an interview with New Vision in which he said he was happy he had been treated well and urged all those who were still in exile to consider returning home.
"I missed my family, missed my home country and even though I was working in Sweden, I was never at peace. I was always intimidated that I would be hunted down and possibly killed once I came back here but that has not been the case. On the contrary I have received the best treatment ever," Masembe said.
He said he fled during the Easter festivities in 2001 after a colleague in the army who is still in exile lied to him that he was about to be arrested again.
"I had been arrested before by the army but released. It is true that the time I was so close to Col. Samson Mande who was my confidante, senior and father in law. This time around when he came to me and told me I was about to be arrested again, I was left with no option but to flee," he said.
"We just woke up one morning and drove the car and nobody knew we were fleeing. We had our uniforms on and also had guns. We sneaked through the border and handed over our weapons," he said.
Masembe says while in a neighbouring country together with Col Mande and Col Anthony Kyakabale together with other officers, it was at this point that they mooted the idea of forming the PRA.
"I disagreed with them because I had seen the consequences of war before and I never wanted the country to be plunged into it again," he said. Masembe says they later separated but the 13 of them thereafter relocated to Sweden.
In Sweden Masembe says he was always in touch with the events back home through reading the newspapers online and calls he made to his family members. He said he was happy that at no point did the government harass or question his relatives in connection to his fleeing.
Masembe said he always wanted to return home even while in exile but didn't know who to contact.
"Much later through the contacts in Sweden I was linked to the Chieftaincy of Military Intelligence boss Brig Charles Bakahumura who spoke to me and asked me to return home. He was so calm on phone and even when I set conditions, the government was ready to welcome me back," he said.
He said when his plane landed at Entebbe Airport he was ushered through the VIP lounge and later to a waiting car and driven to a guest house where he was accommodated and treated well.
He said he was happy to meet his 25-year-old daughter who he left when she was 10.