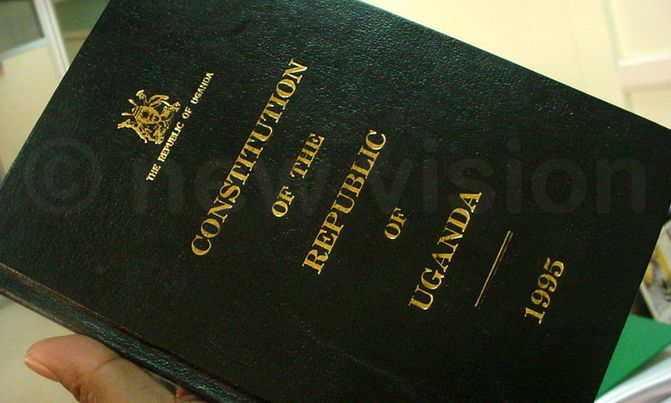 They said President Yoweri Museveni is still good and has proved efficiency in leadership in the country
The LC3 Chairperson of Kakure Sub County in Kaberamaido district, Willy Ebayu Echengu wants Parliament to amend the Constitution and remove the presidential age limit.
Echengu revealed this to a section of NRM leaders at Kalaki Sub County headquarters which during their meeting.
This would allow President Yoweri Museveni to stand in 2021 in case the idea is supported and Parliament accepts to amend the Constitution.
The constitution says one qualifies to be a President if he or she is thirty five years and has an education qualification of 'A' level or its equivalent.
Article 102 Section 2 of the 1995 Ugandan Constitution bars one who is above 75 years to contest as a president.
It is this section that Ebayu wants to be amended.
Kaberamaido becomes another district to come up with the proposal of amending the constitution to remove the age limit for the president after the NRM members of Kyankwanzi took the start.
Ebayu said President Yoweri Museveni is still good and has proved efficiency in leadership in the country hence no need of just throwing him out because of just age.
"It is not the age that works but one's intelligence. The constitution needs to be amended early such that it is not mistaken to be Museveni's interest yet it is us his supporters who want it changed", Ebayu said.
The Kalaki County Member of Parliament, Clement Kenneth Ongalo Obote was also present when the matter came up.
Ongalo said he could only take the matter to Parliament if the district NRM conference supported the idea.
"I belong to NRM party. I take to Parliament ideas given to me by my NRM party members and the constituency I represent. If it is the wish of the people that I take the matter of removing the presidential age limit I will do it", Ongalo said.
Based on this, the district NRM chairperson, Charles David Enepu said he was going to call on the district NRM conference to discuss the issue and make a resolution on it.
"Since you have fronted an item that requires the district's conference stand, I call on the members to discuss and come out with the stand" Enepu said.
Meanwhile, Jane Judith Ayudo, the chairperson of women league from Kobulubulu Sub County said she is also behind having the age limit for the President removed from the Constitution.
Ayudo said the idea came for her but did not want to rush before consulting the key party members.
"I am happy that the matter will be discussed in the district NRM conference" Ayudo said.