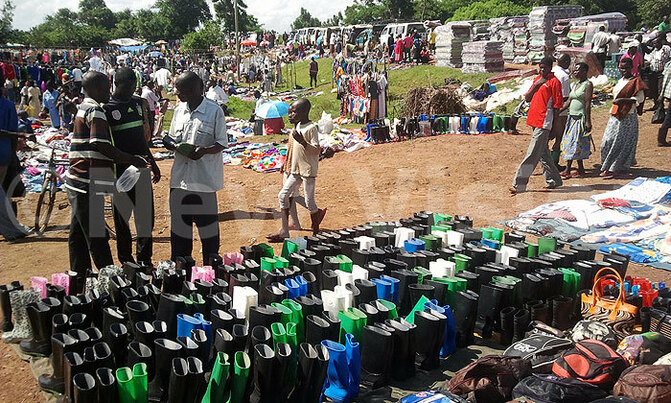 "Today the stalls are flooded with cheap imported goods from China and those manufactured locally."
With better purchasing power and tastes, one would expect shoppers to shun dingy weekly katales (markets) but instead they are going strong and diversifying the goods on their tree shade 'display windows'.

This is what you would see if you drove out of the city and headed out to upcountry areas.

"When we were growing up, the stock under tree shades or in the open comprised of agricultural produce, essential commodities, poultry and footwear," says William Omaria in Bukedea in the eastern part of Uganda.

"But today the stalls are flooded with cheap imported goods from China and those manufactured locally."

Nowadays, these local markets are stocked with cheap bottled beer and sachet gins at affordable rates. These have replaced the good-old ajon (millet beer) and mwenge bigere/tonto - a traditional Ugandan fermented beverage made from bananas.

Men no longer walk to the arena while plucking thumb pianos. You will instead see them walk up and about with earphones plugged in the ears and shut out of the environs. And with emancipation, women trade in livestock and poultry. Sellers shout prices above the din of radios being advertised.
Cattle are a big item for buyers from South Sudan, Kenya and neighbouring districts. (Credit: Titus Kakembo)

But for the old-timers, not all is lost. What has not changed at these markets is chicken roast ovens in open air. A whole shimmering chicken has a price tag of sh15, 000.

Come 5pm and market goers stagger back home celebrating: a good sell or buy or a suitor being able to break the ice to a village belle. There is no need for a lonely heart column where there is a katale. A handkerchief or Samona body lotion speaks volumes between sexes.

These weekly markets are popular across the country, with the only difference being fluency in English and Kiswahili that are spoken with identifiable accents.
Bukedea katale attracts buyers and sellers from Mbale, Karamoja, Gulu and Soroti. (Credit: Titus Kakembo)
If you are a farmer and are interested in buying an ox plough, you can get one at a weekly market. (Credit: Titus Kakembo)
Bicycles are one of the means of transport to Ocorimongin market in Teso. (Credit: Titus Kakembo)