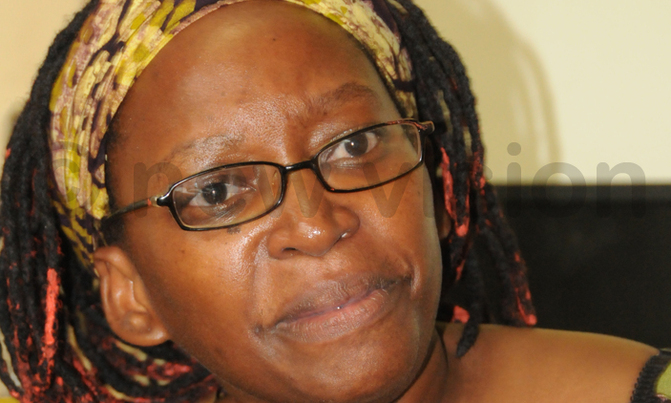 The scholar was suspended from Makerere University after being found guilty of gross misconduct
Embattled research fellow Dr Stella Nyanzi who was recently suspended from Makerere University for staging a nude protest at its institute of social research (MISR), has scooped a new research fellowship worth R75,000 (about sh17.6m) per month in South Africa.
This implies that Nyanzi will be sh211 m richer in the next 12 months.
Nyanzi, an expert on sexuality, will lead a research titled 'Rethinking Sex in Uganda's Parliament'.
In this research, she intends to answer three questions which include: How do parliaments think about sexualities, sexual citizenship, sexual rights and sexual norms over time and space within the African continent? What factors affect, shape, challenge and change the thinking about gendered sexualities within a post-colonial House of Parliament in Africa? Why do Members of Parliament formulate specific laws governing diverse aspects of human sexualities?
"I will trace, describe and analyse the trajectory of thought(s) within the Ugandan Parliament about gendered sexualities since its formulation during the British colonial era, through independence and to the present," her project summary states.
She is the only Ugandan listed among the 90 research fellows for this year's Stellenbosch Institute of Advanced Studies (STIAS) research projects. Others are from the world's top universities such as Oxford, Harvard, and Cambridge among others.
According to the STIAS website, a research fellow is paid a total of R75,000 per month to cater for travel, accommodation, stipend, administration and other expenses. Nyanzi was earning sh4m per month at Makerere University.
Throughout her interaction on Facebook on Monday, Nyanzi revealed that she is already in her new office in South Africa.
Nyanzi who was suspended from Makerere University for the last two months was found guilty of gross misconduct by a probe committee instituted by the university's appointments board.
However, the institution's appointment's board had not yet come up with a final decision, following the recommendations in the MISR investigations report released last month. The report recommended that Nyanzi be dismissed from the university, in accordance with section 5.9 (d) (i) of its human resource manual.
Nyanzi staged a nude protest and painted MISR walls red on the morning of April 18th, after she was evicted from her office by the institute's director Prof. Mahmood Mamdani.
She took to her Facebook page to celebrate her new appointment.
She also said to her followers that she doubts whether she will ever return to Makerere, now that she has landed a well-paying job.
"I am very excited about starting my Research fellowship at Stellenbosch Institute for Advanced Studies. It is great to join an academic space that values the role of research and researchers in Africa. I am grateful to resume and plunge into producing academic research knowledge without any encumbrances. I was born to do research," she said.
Nyanzi last month said Makerere University's management was wasting time because she is no longer their employee, and would not like to plead.
"Makerere University will be fine. Can you imagine they still have not decided about what to do with me? I am happy to resume my research and writing in a space that appreciates what I do," she added.
Every year STIAS takes on new research fellows. Last year, Uganda was represented by the director of the Makerere University Human Rights and Peace Centre, Prof. Joe Oloka Onyango. Before that, Uganda was represented by Dr Arabat Kasangaki, from Makerere Medical School in 2011.
Admittance to the programme is either by invitation or by application. Fellows are selected on the basis of academic excellence and the originality of their proposed research project.