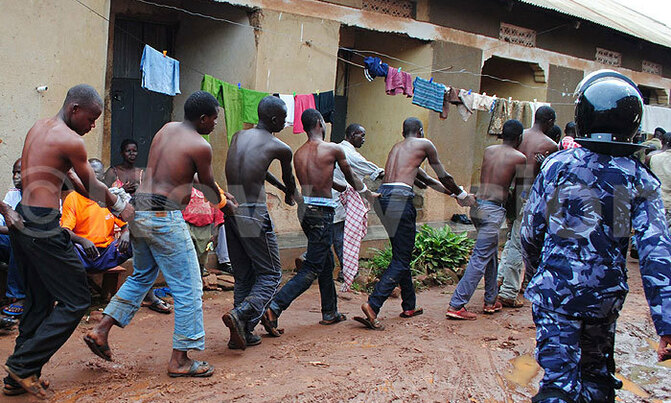 The suspects were arrested last week during a police crackdown on criminals in city suburbs.
KAMPALA - The police is today expected to arraign in court as many as 210 members of the so-called Kifeesi, a notorious gang linked to several crimes in the city.

Among the suspects arrested in a police swoop last Thursday, 40 were children aged between 10 and 15. The group is known for snatching accessories from unsuspecting travellers.

Kampala Central Police Commander Aaron Baguma told New Vision that after screening the suspects, the children were divided into two separate groups and transferred to Naguru and Kampiringisa remand homes.

Authorities at two remand homes could not be reached for comment.

"The remaining suspects will be arraigned and charged over theft and robbery at the Buganda Road and Luzira courts today," Baguma said.

Before the operation, some former gang members that have denounced crime met with Jackson Bogere, the Community Liaison Officer (CLO) at Katwe Police Station last Tuesday and "requested government to substitute their heinous crimes with jobs".

Bogere told New Vision that he launched a campaign of talking to the gang members so that they can reform.

"I have met over 200 notorious Kifeesi members around Katwe, Kira road and Kyaliwajjala in Kira municipality. The campaign is still going on. I am happy that they are willing to become good citizens."

'An ugly society'

However, Dr. Paul Stephan Kalungi, a clinical psychologist with Uganda Prisons, describes the move - talking to criminals to reform -as unfortunate because it encourages criminality. But he observes that gangs that identify themselves should also be looked at in the lens of the area's sociology, politics and the law and the economics.

"A thorough criminal mind should be able to understand society and most likely these Kifeesi guys know that Ugandan people are passive - you can offend them and walk away - which encourages them to act the way they did but also we need to examine the fact that they are asking government for jobs.

"Do such comments awaken us to the fact that unemployment has created such an ugly society? If yes, then as stakeholders, come together to curtail the activities. Authorities should also rethink how to contain jobless youth," said Kalungi.

Last month, Police admitted that some officers collude with criminal gangs to carry out criminal activities in Kampala and other parts of the country.

Assistant Inspector General of Police Fred Yiga said some of their officers at various ranks were reportedly working with criminal gangs such as Kifeesi.

The Police Standards Unit commandant, Fortunate Habyara, said they have so far arrested 100 officers in connection with corruption/demanding and receiving bribes, illegal deployments and involvement in selling and distribution of drugs since the campaign started a fortnight ago.

In April, the Assistant Superintendent of Police attached to the Criminal Investigations Directorate, Steven Mugarura, told Saturday Vision that several senior Police officers connive with criminals to commit crimes.

Mugarura also claimed he had written to the Inspector General of Police Gen. Kale Kayihura about the matter, demanding an investigation.

Police spokesperson Fred Enanga, however, dismissed Mugarura as a wanted officer who had gone away without official leave (AWOL).