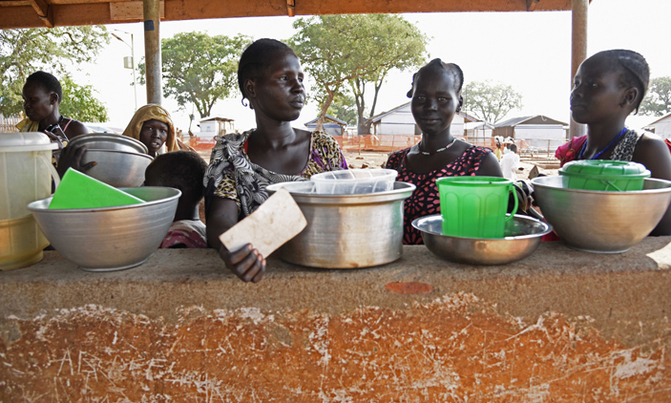 Although a ceasefire has held since late Monday, the UN has warned of the possibility of fresh fighting
At least 300 people were killed and 42,000 fled their homes this month during four days of intense gun battles in the capital of South Sudan, the UN said Friday.
Neighbouring Uganda and Sudan have begun to evacuate their nationals, while Ethiopia has offered to send additional troops to the UN peacekeeping there.
The violence marks a fresh blow to last year's peace deal to end a civil war that began in December 2013 when President Salva Kiir accused Riek Machar, whom he had sacked a few months earlier from the post of vice president, of plotting a coup.
Under the terms of the peace process Machar has since April held the post of First Vice President of South Sudan.
Although a ceasefire has held since late Monday, the United Nations has warned of the possibility of fresh fighting in Juba.
"It's over 300 deaths since July 8," World Health Organization spokesman Tarik Jasarevic said in Geneva.
The July 8-11 violence had left "42,000 internally displaced" in the world's youngest nation, said William Spindler, spokesman for the UN refugee agency.
"The number of refugees in neighbouring countries is now 835,000," he said.
Also Friday, dozens of Sudanese women and children arrived in Khartoum from Juba.
Specially chartered planes have been taking foreign nationals out of South Sudansince Wednesday.
The first flight carrying 76 Sudanese arrived in Khartoum on Friday afternoon.
"We are focusing on bringing women, children and elderly people first," government official Gamal Ahmed told reporters at Khartoum airport.
"There will be other flights today bringing more people."
"Most of them are traders and those working in international NGOs," another government official, Hajj Magid Suor, told Sudan Media Centre, an outlet close to the powerful National Intelligence and Security Service.
On Thursday, a heavily armed Ugandan military convoy crossed into South Sudan to evacuate Ugandan citizens in Juba.
Cycle of violence
The convoy of around 50 Ugandan trucks escorted by machine gun-mounted armoured vehicles crossed the border to open up a secure corridor on the 200-kilometre (120-mile) Juba-Nimule road.
Uganda's army chief Brigadier Leopold Kyanda said the mission involving 2,000 soldiers would likely last "two to three days". An intelligence officer said some Ugandan troops might remain in Juba.
Uganda gave military support to Kiir against Machar during the civil war, only pulling its troops home late last year.
On Friday, Ethiopia said it was ready to send more soldiers to strengthen UNMISS, the UN peacekeeping force in South Sudan, to which it is already the largest contributor of troops.
"We're more than willing to take on our part of responsibility in restoring calm in South Sudan," said government spokesman Getachew Reda.
"We hope and expect the South Sudanese to bury the hatchet," he said, but added, "If push comes to shove, we'll have to carry the burden through strengthening the troop numbers."
According to the International Organization for Migration many civilians who fled their homes during the recent fighting had begun to return.
"Humanitarian access to affected people has improved dramatically since Monday. But this can only be sustained if the ceasefire holds", said John McCue, IOM SouthSudan Head of Operations.
The December 2013 violence set off a cycle of retaliatory killings that split the poverty-stricken, landlocked country along ethnic lines and drove more than two million out of their homes.
The conflict was been characterised by horrific rights abuses, including gang rapes, the wholesale burning of villages and cannibalism.