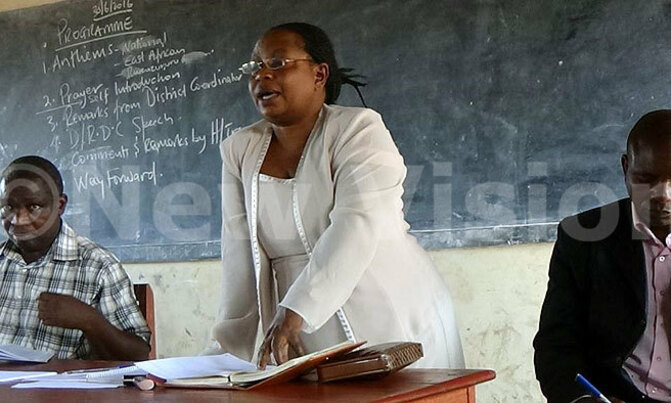 Several schools in the country have been affected by violent strikes by students.
Students have been challenged to develop a heart of patriotism towards their country and avoid waging violent strikes because they are disastrous to both their future and the nation.

"Patriotism should begin with one loving where he lives, the school where he or she goes to study and then transcends to his or her country", retired Kasese district principal education officer, Douglas Katemba has said.

"A strike in a school is an academic poison and in most cases students who participate in strikes do not excel academically but turn into rouges in society," he told students during an induction course for student leaders at Kasese Secondary School on Tuesday.

Katemba tasked student leaders to be exemplary in the promotion of peace and development and to always counsel their fellow students against waging strikes.

He said dialogue can help to address and resolve any school issues that may arise.

Several schools in the country have been affected by violent strikes by students, with some even setting infrastructure on fire over a number of grievances.

Recently, head teachers of post-primary institutions in Kasese district were directed to establish and revive the Patriotism Clubs at their schools to instill the love for the country as well as discipline.

"Patriotism Clubs in schools could help to curb student strikes and so every head teacher must, forthwith, make sure that it exists at his or her school if it has not been there or revived where they are not active" directed Kasese deputy RDC Justine Muhindo.

She passed the directive on at the end of last month during a meeting she put together to share with the secondary school head teachers about what could have stalled the existence of such clubs.

The meeting also discussed the possible causes of student strikes in schools.

'Students eyes and ears of schools'

During the induction course, the Rector of St. John's Minor Seminary Kiburara, the Rev Fr. Francis Kule Kojjo said that a successful student leader is known for his or her discipline and guiding other students to do the right things.

He advised the student leaders to always analyze situations facing their fellow students and guide them on what peaceful steps to take in order to prevent strikes in schools.

Benjamin Masereka, the chairperson of the Association of Secondary School Head teachers in Kasese urged the student leaders to always work towards transformation of their schools.

The head teacher of Kisinga Vocational Secondary School, Masereka added that student leaders are the eyes and ears of their respective schools because they bridge the gap between students and the administration.

Evelyn Biira, the speaker of the Students Council at St. Theraza Girls Secondary School, Nsenyi proposed regular induction courses for the student leaders and also for all students, saying it could help reduce strikes which she described as "uncalled for" if effective communication exists between the administration and the students.