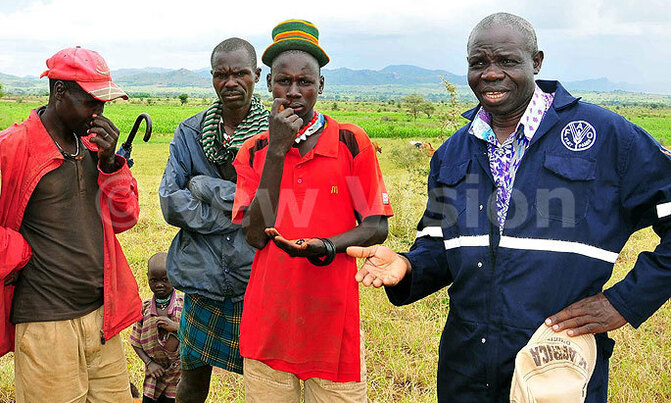 "We are in this region to find out first what type of tsetse flies there are, what diseases they carry and their age."
PIC: Fredrick Luyimbazi (right), a commisioner in the agriculture ministry, interacts with Karamojong pastoralists in Kaabong. (All photos by Gladys Kalibbala)

"We shall not wait for Karamoja to develop," is what former Ugandan president Milton Obote is reported to have said of the north-eastern region of Uganda during a trip there in the 1960s. The Uganda Gazette reported in 1963 that the then-Ugandan leader made those comments when it appeared to him that Karamoja showed hardly any signs of ever developing.

The rest of the country would move on without Karamoja, Obote's comments seemed to suggest.

This was a time when the community around Karamoja grappled with the problem of cattle rustling, people walked up and about in the nude, others with guns shot at passing cars. Generally, an air of hostility hang so low over the area.

But more than 50 years later, the region is dramatically changing. The current government together with other organizations is ready to lift Karamoja out of its past.
Karamojong famrmers work in their garden in Kaabong

For instance, recently the ministry of agriculture, animal industry and fisheries in partnership with the Food and Agricultural Organisation (FAO) travelled to Kaabong district with a group of over 25 agricultural entomologists to start on the work of collecting vital data on tsetse flies in their area.

This is because over two million cattle in Karamoja are at risk of being wiped out by Nagana if the transmitters (tsetse flies) are not dealt with, according to the head of the group, Fredrick Luyimbazi, also a commissioner in the entomology department.

"We are in this region to find out first what type of tsetse flies there are, what diseases they carry, their age and many other necessary information. The data we collect will help us determine appropriate methods to use in fighting these flies," he said.

The group moved to Karamoja under a programme dubbed "Helping to build Karamoja Pastoralist Resilience" which is covering Kaabong and Kotido districts.
Here, Fredrick Luyimbazi flags off a group of agricultural entomologists for the 'Helping to build Karamoja Pastoralist Resilience' programme in Kaabong town

The move follows continuous outcry from the community and communication from the local leaders in the region appealing to the agriculture ministry to take action. The First Lady Janet Museveni, formerly the minister for Karamoja (and now education minister) and all other local leaders had for long appealed for the intervention by the ministry to rid the region of tsetse flies.

Their communication, at various levels, indicated that all the 14 sub-counties in Kaabong are infested with these flies which they claim have spread from the neighbouring Kidepo National Park. It was noted that between 35 and 38 tsetse flies were caught per trap every day with a Nagana prevalence rate of 35% and cattle mortality rate of 12% recorded in Kaabong district.

'PROTECT A COW, PROTECT A COMMUNITY'

As our vehicle pulled out around the fertile vegetation of Karenga sub-county which is one of the 14 sub-counties in Kaabong, tsetse flies started entering the vehicle. Soon, more flew onto clothes of those who had gone out of the vehicle.

According to Simon Lolim, the RDC for Kaabong, such a situation is bad news for the people of Karamoja as tsetse flies are known to transmit sleeping sickness in human (trypanosomiasis) and Nagana in animals. "Our livelihood in Karamoja is a cow and once you've protected a cow here, you would have protected the community."
Kaabong RDC Simon Lolim

Lolim is concerned that places like the sub-counties of Karenga, Lolelia and Sidok where pastoralists would rush to take their animals for greener pastures are all heavily infested with tsetse flies.

Luyimbazi says that the diseases transmitted by the flies have a negative impact on the fight against poverty in the country. He explains that tsetse fly infestation is threatening half of the national cattle population while reports from the agriculture ministry indicate that about 70% of Uganda's land surface is tsetse fly-infested.

The spread of tsetse flies in Kaabong could be due to reason that the community is lacking knowledge of the necessity to spray animals and also that drugs too are not readily available in this remote part of the country.

Luyimbazi says that the tsetse fly is trans-boundary in nature and therefore calls for "immediate concerted action" against the spread of this vector from all stakeholders.
WHAT KAABONG LEADERS SAY

Simon Lolim, the resident district commissioner (RDC)

There are little socio-economic benefits in the region due to high infestation of tsetse flies but it's good the community is ready to work together with government to help to restore their animals' health. It's difficult to talk of proper education or methods of farming in Karamoja before ensuring that animals in this region are safe from diseases like Nagana and many more others. Protect their animals and the community will be ready to listen to other developmental issues.

Maj. Ephraim Byaruhanga (Fifth division combat intelligence officer)
Now that the disarmament that has helped the region get rid of illegal guns has been finalized, government should go ahead and respond fully to the people's outcry. However, as the fight against tsetse flies go on, other related diseases like those inflicted on these animals from ticks need to be addressed. Serious sensitization is required among the Karamoja community to stop owning bigger herds of cattle as a show of prestige when they don't benefit from them. Their animals are very strong and they only need to give them enough care where spraying will cure them of diseases so that they become productive. Also communal feeding should be discouraged as it spreads diseases easily among their animals. It's high time they learn to keep these cattle in farms around their homes.

Charles Otai, chief administrative officer (CAO)

The climate in this region is not reliable at all where we at times take many months without rain. When such situations occur, the community will be forced to move far away from their homes in search of water. As government fights the tsetse flies, it should also increase on the number of dams in this region.

INTERVENTIONS

Luyimbazi explains that the partnership with FAO is the first of its kind in Karamoja region as districts are expected to have budgets of their own to fight tsetse flies.

"Like all other activities after the decentralization, districts are supposed to control these flies but their budgets are too low to support this."

He says the intervention to collect data will enable them in the decision-making of proper planning methods for tsetse fly eradication. It is understood that other districts outside of Karamoja have also been hit by lack of funds to deal with the flies.
Entomologists from the ministry of agriculture screening tsetse flies for diseases

Those that have been assisted were beneficiaries of projects like Creation of Sustainable Tsetse and Trypanosomiasis Free Areas (STATFA), Uganda Tsetse and Trypanosomiasis Eradication Project (UTTEP) working alongside Pan African Tsetse and Trypanosomiasis Eradication Campaign (PATTEC) and others.

The interventions include use of tsetse fly traps, sterile insect technique, pour-on drugs which kill both tsetse flies and ticks while aerial spraying may be the last resort to eliminate flies using environment-friendly drugs.

Luyimbazi says the aerial spraying method has proved to be successful in countries like Botswana (Okavango Delta) and some islands of Zanzibar and is said to be cost-effective.
Entomologists setting tsetse fly traps in Kaabong
Luyimbazi checks on a tomato garden
A woman in her maize garden in Kaabong
Here, Luyimbazi is seen having a look at an onion garden
A man roasts meat at the not-so-bustling Kaabong market