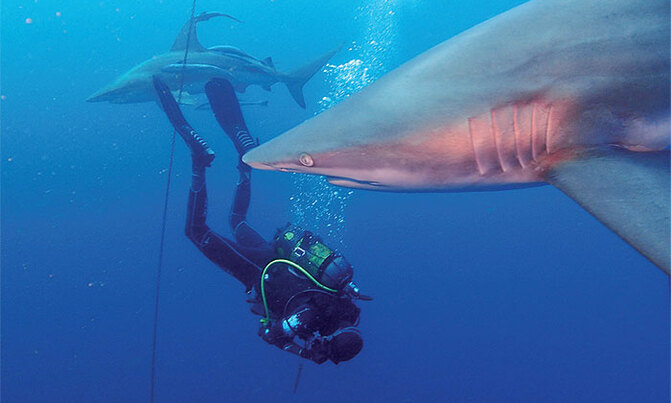 We may not have sharks in Uganda, but we have plenty of fish species that can make for great sport fishing excursions.
PIC: Journalists diving with sharks at Aliwal Shoal Reef of the coast of Umkomaas

Whether you are an adrenaline junkie in quest of experiences that set the heart on fire or a budget traveller in need of adventure, Uganda seems to have a fair share of its attractions. But due to its geographical location or lack of investment in particular areas, there are adventures you will not get here. SOLOMON OLENY and SSEBIDDE KIRYOWA went looking for these during a recent trip to KwaZulu Natal, popularly known as the garden province of South Africa for its lush and well-watered valleys. They discovered why over seven million visitors grace this paradise annually and many lessons that could benefit Uganda's tourism industry.
The picturesque Durban city waterfront is a tourist haven that attracts surfers from all over the world

SHARK CAGE DIVING

In the warmer waters of Aliwal Shoal, a rocky reef approximately 5km off the coast of Umkomaas, about 49.6km (35 minutes' drive) along the coast, south of the city of Durban in KawZulu Natal Province, we encountered blacktip, dusky sharks, Zambezi and sand tiger sharks in a shark cage diving experience.

The adventure entails observing aquatic species of the Indian Ocean from a square cage. For better views and safety, we had to wear diving suits and masks before taking a dip. Among the mentioned species, the dominant one was the sand tiger shark. It has a sharp, pointy head and bulky body. In as much as the encounter was fun, for folks who derive pleasure from fright, this faceto- face experience was incomplete without a scuba dive.

The Aliwal Shoal is a fossilised sand dune with some soft and hard corals, but notably sponges. The depth ranges from five to 30 metres. The warm water reef fish and cold water reef fish converge on the shoal. The marine life is varied. From the shoal, one can witness the awesome spectacular northern migration of the Humpback whale from May through November, while the Bottle Nose and common dolphins are seen all year round.

We, however, were not lucky enough to see any of these. Yet coming face-to-face with these fierce predators of the deep sea was only, but the climax of the experience. Getting to the Aliwal shoal in itself is quite an adventure.

From the Aliwal Dive Centre where we had to suit up, we took a ride down to the lagoon. This is the launch pad from where our motorised raft sped off into the Indian Ocean. But before we did that, we had to buckle up in preparation for a bumpy ride that makes water rafting seem like a paltry joke. As you ride out to sea, you come head on with raging waves. It was terrifying. The waters are not half as turbulent for the rest of the trip.

Back to the creatures themselves; yes, sharks are scary. It does not make it any easier when you are thrust in a shark cage floating in water so salty it burns your eyes with 'monsters' that have teeth so sharp they can literally tear off your lib hovering all around you. But when we saw people like Shaneal, our dive-master snorkeling with these magnificent creatures in their natural environment outside our cage, it was quite reassuring.

At the end of it all, we had conquered our fear and replaced it with elation. We can, without doubt, say this was an incredibly rewarding experience.

LESSON: We may not have sharks in Uganda, but we have plenty of fish species that can make for great sport fishing excursions beyond the traditional Murchison Falls and Queen Elizabeth national parks.

HOT AIR BALLOON

One of the things to do while on a visit to KwaZulu Natal is a hot air balloon ride; floating over the Drakensberg Mountain area.
The ride at sunrise from the Amphitheatre in the north down to Giant's Castle in the south allows for the most picturesque views not just of scenic corn fields below, but also of some of the most awesome scenes of the Drakensberg ranges, especially Champagne Castle, the second highest peak in South Africa.

To get to this place, we travelled 222.7km in a bus to the northwest of Durban city to the Drakensberg Hotel — Tsogo Sun Resort where we spent a night. Nestled in the Drakensberg Mountains, this relaxed resort is 13km from Giant's Castle Game Reserve and 10km from the Falcon Ridge Bird of Prey Centre.

The hot air balloon experience is an hour-long ride done in the early morning hours from 5:00am to 06:00am when the winds are still calm to reduce the risk of accidents. The balloon is solely driven by the wind and the only control the pilot exacts is the up and down movement. There were two colourful balloons, one with room for eight passengers and the other 10.

Anxiety started to fire in us once aboard. To ignite the adventure, over 3kg of Helium gas was used to inflate the envelope to make it buoyant. The balloon then started ascending up to a maximum height of 400 meters above the ground. The cherry on the cake was the dazzling sunrise at dawn providing an opportunity for plenty of postcard pictures during our flight. But the bonus was flying up-close to African Hoopoe birds as they made their way to the corn fields for a feast!
Riding over the Drakensberg ranges in a hot air balloon

LESSON: Hot air balloon safaris are already available in next door Kenya in places such as Masai Mara National Park. In Uganda, private operators could be licensed to operate from the steep escarpments of the Rift Valley in Bunyaruguru over the Imara Maragambo Forest and the scenic Queen Elizabeth National Park with all its rousing crater lakes.

SCOOTER RIDING IN THE MOUNTAINS

To the North of Drakensberg, we found an adventure park at the Dragon Peaks Mountain Resort, right next to the world famous Drakensberg Boys' Choir home.

Scootours, our tour company here, presented us with a menu of activities that included sliding 60kmph on 900m of cable between seven forested platforms, throwing triple back flips on the bungee bounce and scooter rides.

For a more intense thrill, we started with a 17m free fall called the King Swing. The activity is like an upright bungee jump. However, it is guised as a tree swing to make it look less terrifying. If we had any doubts, Frankie, a 27-year-old media colleague from Namibia, was all the reassurance we needed. He took the first jump. With his head held high, he climbed up a wooden suspension bridge using a ladder made of rope. It was the take-off platform. He looked down on us and smiled, signalling that the adventure was not as scary as the disclaimer made it look.
Descending the Drakensberg ranges on a scooter

Within five minutes, all was set for his jump. The swing master had hooked his safety harness onto a network of three ropes. At the count of three, he dived into the air with more pleasure than bravado. For the next one minute, he was oscillating back and forth in the air before he was lowered. Rather than scream out in fright, he was relaxed and singing sweet songs of victory.

Not once did he swear, something that failed most that followed. Equally thrilling was an exhilarating 4.5km downhill descent on a monster mountain scooter, crossing steep terrain, meandering grasslands and an indigenous forest. A free 4×4 ride took you to the top of the hill. Scooters are non-motorised, making them eco-friendly. These Swiss designed scooters are used in the Alps during the summer season on the ski slopes when the snow is gone.

LESSON: Scooter rides would be ideal as an additional tourism activity in places like Wanale Mountain in Mbale. With an estimated terrain elevation of is 2,092 metres above sea level, this is a safe place for this kind of activity.

NELSON MANDELA CAPTURE SITE

Up next was the drive back to our hotel, the Southern Sun Elangeni & Maharani at the Durban city beach front. But along the way, we made a stopover at the Nelson Mandela capture site. A lot is known about Nelson Mandela's captivity.
Mandela's sculpture at the Nelson Mandela Capture site in KwaZulu Natal

Many agree. However, very little is known about how and where he was captured. We were anxious to quench our thirst for this detail. Situated on a secluded piece of land along the R103, approximately 5km outside Howick, KwaZulu Natal, the site hosts a sculpture and museum erected in memory of August 5, 1962, when Mandela was captured by the apartheid police.

Christopher Till, the director of the Apartheid Museum, narrates that Mandela had successfully evaded capture by apartheid operatives for 17 months. On this historical day however, armed apartheid police flagged down a car in which Mandela was travelling.

He had just paid a clandestine visit to African National Congress (ANC) president, Chief Albert Luthuli's Groutville home to report back on his African odyssey and to request support in calling for an armed struggle. "It was in this dramatic way, at this unassuming spot, that Mandela saw his last day as a free man for the next 27 years," Till narrates.

The sculpture is a creative marvel. It consists of 50 steel columns between six and nine and half metres high along a 30-metre length, which look like a forest of steel poles when seen from the road. The 50 linear vertical steel columns line up at this point, creating the illusion of a flat two-dimensional image magically recreating Madiba's portrait.

To see the image, you need to adjust your position cleverly.

LESSON: We should celebrate our history more. Our past, ugly or glorious, is our gold. The Uganda Martyrs, who were slain for their faith by the infamous Mukajanga at the orders of the brutal Kabaka Mwanga, have more than proved what a potential history has to draw crowds.

Over 11,000 visitors flocked Namugongo from all over the world for the two-day event last week. In the same spirit, people such as Idi Amin (arguably the most famous Ugandan in history), Edward Mutesa, Bishop Janani Luwum, Milton Obote and the likes have the potential to draw hundreds. Let us showcase their exploits (positive or otherwise) and create more attractions for visitors which translate into more jobs for our youths.

CULTURE
The grave of King Shaka Zulu at KwaDukuza

Shaka Zulu, as we all know him, was one of the most influential African monarchs of the 19th Century and the South Africans will not let you forget it. The British settlers who, at his hands, suffered their biggest military defeat by an indigenous leader anywhere in the world, called him the "Napoleon of Africa".

The man was a military genius. The Zulus call him "the father of the Zulu Nation."

It was an honour to visit the grave of this great man at KwaDukuza and later experience the way of life of the traditional Zulu people in a umuzi (traditional Zulu homestead) setting at Shakaland, about 160km north of the city of Durban. This is also where part of the popular movie 'Shaka Zulu' was shot in the 1980s.

LESSON: Cultural heritage is very important. Away from animals, more and more tourists now seek unique cultural experiences. The Kenyans proudly own, celebrate and flaunt the Masai.

What are we doing with our Karimojong?
Making Umqombothi (traditional Zulu beer) with a Zulu mama