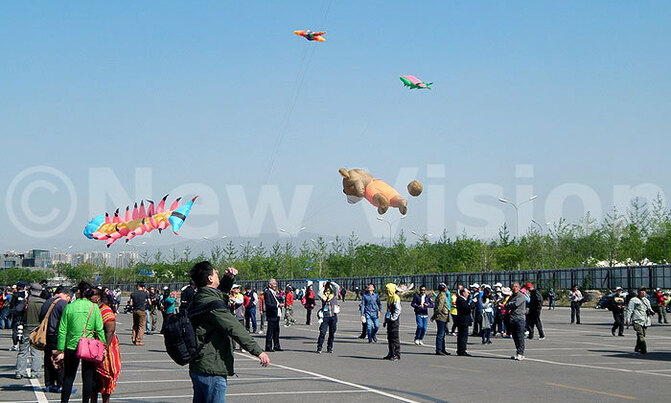 Kite flying is a popular attraction, both as a sport and a tradition.
When you come across adults tinkering with paper kites; hurling them into the wind and smiling at one another, you get to understand that it's more than just kites they are flying.

In many parts of Africa and across the world, kites are child's play, made and flown by kids during play time or as part of art lessons.

To the outsider, the popular culture might come across as sign that Chinese society now pays attention to 'little pleasures, more like Kampala does with events such as the annual goat races.

Kite flying is a popular attraction, both as a sport and a tradition, across many parts of China, particularly in the early days of spring that starts in April.
Government officials flagging off the kite flying event

The 2016 Beijing International Kite Festival is a big event, complete with an opening ceremony where municipal government officials flag off the annual competition and break-out sessions.

In Beijing, one of the most cosmopolitan cities of China, kite-flying is like a bridge that connects cultures by creating a strong bond built around mutual interests.

It is the brainchild of the Beijing People´s Association for Friendship with Foreign Countries (BPAFFC) that aims to encourage foreign Beijing residents to take part in the city's culture.
People from all parts of the globe attend the event. Even from as far as South Africa!

Kite lovers from many countries across the world turn up in large numbers with all types and shapes of kites. For some enthusiasts, the elaborate event is just another day to 'catch up.'

A warm weather and a breeze grant a perfect respite from weeks of a biting winter and an occasional hazy sky.

One couple at the event has travelled from New Zealand to take part in this year's competition, alongside Kite-flying fans from Rwanda, Malaysia, Germany, Switzerland, India and Singapore.

Kite types range from those made from paper to silk and giant balloons depicting the giant panda, insects, mythological motifs and reptiles.
An insect kite
A unique kite type

For many weeks that follow, kites of all shapes and sizes glide into the skies, creating a colorful kite of shapes and motion.

During the annual kite festival, experts teach participants how to make their own kites, and later to try to fly their inventions in the breezing sky.

Origins and use of kite flying

Kite flying is more than just an indulgence: it is a tradition that dates back more than 2,000 years, with popular legend that the kite was invented by a man named Lu Ban in the 5th century.

By 549 AD, paper kites are said to have been flying. Historical accounts indicate that the first paper kite was used to relay a message for a rescue mission.
Security and ambulance responce teamson standby
Home of kites
In the Chinese movie Dragon Lord, action star, Jackie Chan, uses a kite to send a letter to his on-screen love interest, although it heads in the wrong direction but leads him to the bad guys.

Chinese ancient history shows that kites were for testing direction and speed of the wind, and measuring distances.

Some versions of kites were used for signaling and communication for military operations. Stories abound about kites being first taken to Europe by Marco Polo at the end of the 13th century.

While initially regarded as mere curiosities in parts of Asia and Europe in the 16th and 17th centuries, later versions of kites were used as vehicles for scientific research.
A banner showing the 'International Kite Flying Festival'
A kite floats high up in the skies
It's a time to let go. You could even imagine yourself gliding in the skies like a kite

In 1750, Benjamin Franklin is said to have published a proposal for an experiment to prove that lightning was caused by electricity.

The Wright brothers also turned to kites during research that aided them in developing the first airplane in the late 1800s.

Limited use of kites for military purposes is recorded during World War II but the advent of the powered airplane is believed to have diminished interest in kites, relegating them for recreation.

In 2009, European scientists studied the viability of flying rotor-linked kites above 30,000 feet to convert kinetic energy to electricity and relay it back down the wire feet to a distribution grid.
Making kites inside the iconic building is funa dn teaches team work effort
Kite wall of fame
Wall of kites