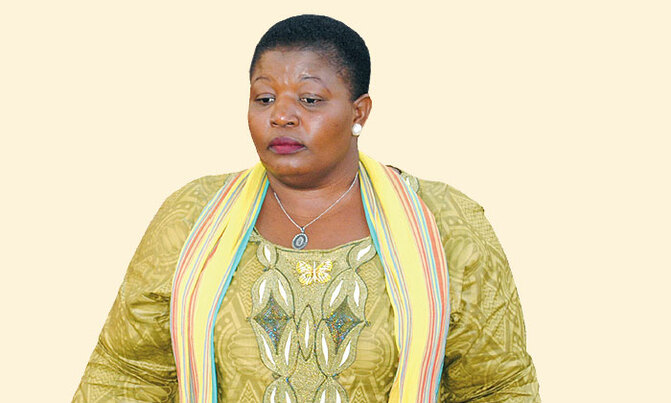 Today, we have a story on NRM probing its bosses over campaign money, the latest on Specioza Kazibwe, and more.
PIC: NRM secretary general Justine Lumumba's office has come under the
spotlight regarding the accountability of the campaign cash

Good morning, here's a quick look at what is in today's New Vision paper . . .

To begin with, Wednesday's edition leads with a story on the ruling NRM party. The party's bosses are being probed over campaign money.

Five months after the general elections were held, it is understood that several party leaders have failed to account for about sh28b that the party disbursed for campaigns. Details on page 6.

And today's leading picture is of Israeli Prime Minister Benjamin Netanyahu taking to social media to express his connection with Entebbe. He was here on Tuesday for the 40th anniversary of the 1976 Entebbe Raid during which his brother Jonathan was killed.

KAZIBWE'S AU TOP JOB BID
Meanwhile, with less than 10 days to the voting day for the next African Union (AU) Commission chairperson, the presidents of Nigeria and Gambia have separately written to President Yoweri Museveni affirming their countries' support for former vice-president, Dr. Speciosa Wandira Kazibwe, for the continent's top job.

Details on this are on page 3, which also carries a story on Buganda king urging Muslims to pray against corruption. He appealed to Muslims to continue with the good deeds and love for one another as the case has been during Ramadhan.

BUGANDA'S SUPPORT FOR SICKE CELL FIGHT
As you flip on, you will come across another story to do with Buganda. This time, it's about the kingdom setting aside as much as sh100m in this year's budget to help fight sickle cell anaemia.

Do you know the signs of the disease? Do you know that early signs present at six to eight months include swelling of hands and low blood levels. If you don't, then how about you enlighten yourself with the news and information on this. Go over to page 5

'I SURVIVED WITCHCRAFT TO WIN'

That's what former ethics and integrity minister Dr James Nsaba Buturo reveals. Her says that to win the Bufumbira East seat, he had to overcome a combination of witchcraft and sorcery planted by his political enemies. That, and more, on page 8.

WHAT YOU ARE SAYING . . .
In his 'Letter from Toronto' this week, Opiyo Oloya says that in the race for the chairperson of the African Union Commission (AUC) to replace South Africa's Dr. Nkosazana Dlamini Zuma, Uganda's former vice president Dr. Specioza Kazibwe is the 'most qualified' of the three candidates.

He writes that "only Kazibwe has the depth and experience to take on the role of being the top bureaucrat at the African Union Secretariat in Addis Ababa.

Her challengers are Botswana's Foreign Minister, Dr. Pelonomi Venson-Moitoi and Equatorial Guinea's Foreign Minister, Agapito Mba Mokuy

Also in the commentary section, architect Dr. Kenneth Ssemwogerere weighs in on a subject we have been seeing a lot lately in the news: road accidents. He explains why Uganda's highways 'have become death traps'. Find all this on pages 14 and 15.

SEX EDUCATION
And in this week's education pullout, the main focus is on sex education.

THE BACK PAGES

And for you sport lovers, you are served with a cocktail of the latest local and international sports news. So, what are you waiting for? Get sporty!


CLICK HERE TO READ TODAY'S NEWSPAPER ONLINE OR ON MOBILE