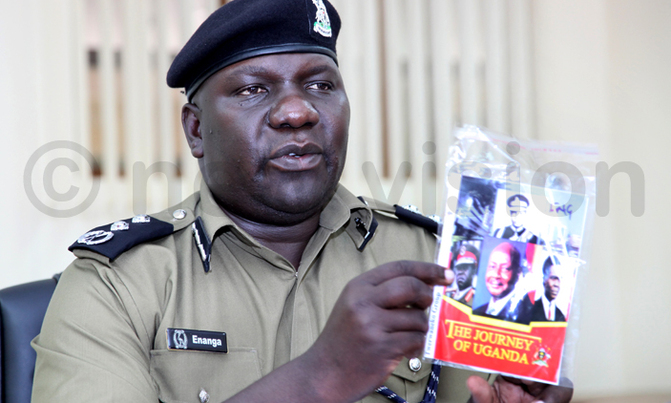 The public has been cautioned against viewing the film
Police has seized 20 DVDs which allegedly contain violent content.
Speaking at a press conference on Monday at the Police headquarters in Naguru, Police spokesperson, Fred Enanga said the confiscated discs are of a film titled 'The Journey of Uganda since 1982'.
According to Enanga, the video was allegedly produced by 'Twerwaneko Group', and is being widely distributed in the downtown areas of St Balikuddembe formerly Owino, Kikuubo, Old and New taxi parks.
Enanga didn't reveal the identity of the group (Twerwaneko) members; neither their leader nor their motive but said the police was probing them.
Enanga said Police forensic specialists were examining the discs by press time.
"The officers (specialists) will establish whether the video film was classified by the censor board at the Uganda Communications Commission (UCC)," Enanga said.
Efforts to get comment from the UCC Executive Director, Geoffrey Mutabazi, were futile as calls to his office line went unanswered.
During the conference, Enanga cautioned the public against viewing the film.
"We therefore, urge anyone who receives, possess or finds the video film anywhere, not to view them because of the alleged inappropriate and violent content" he said.
"We further call upon anyone who has received the video or has any information which could assist in our investigation to contact the police or pass it in confidence," he added.