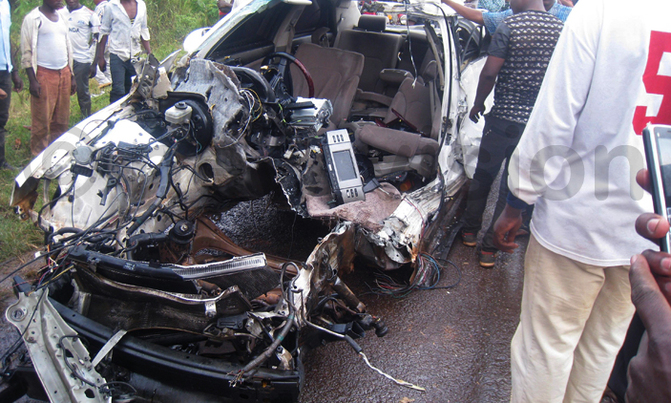 Over the weekend, over 20 people perished in two major accidents
Harold Kaija the deputy secretary general of Forum for Democratic Change (FDC) party has said some Ugandans are very superstitious that every bad incident including road accidents are associated with evil spirits.
Speaking during the party's weekly press briefing at FDC headquarters in Kampala, he said that Kampala-Masaka Road has the highest number of black spots at Kyengera, Nabbingo, Nsimbe, Mpigi, Kammengo, Katonga Bridge, Lweera, Kadduggala and the section from Nyendo up to Masaka town.
Other common spots where many people have lost lives are along the Kampala-Jinja Highway especially at Mbalala, Namagunga and Mabira Forest.
Kaija said because of many cases of accidents at these spots, some Ugandans think there are ghosts that cause accidents.
"There are no ghosts on these roads or evil spirits and it should not be the justification for these accidents. Most of these roads have steep slopes, high pumps, sharp bends while others are hilly with sharp corners, and of course not forgetting over speeding and reckless driving," said Kaija.
He said other than blaming the rampant road accidents on ghosts, citizens need to stop stealing road signs and cautioned drivers against reckless driving.
Kaija also called upon the e executive director of UNRA, Allen Kagina to introduce new safety measures and that they should be given high priority.
Over the weekend, over 20 people perished in two major accidents in areas listed as black spots by traffic police along Masaka-Mbarara Highway.
According to recent reports, the country loses close to sh 1.862 trillion to respond to accident-related victims every year. The reports also show that over 60% of Mulago Hospital's budget is spent on treating accident related victims.
Worldwide, over one million people die in road-related accidents and 90% of these accidents take place in low development countries.