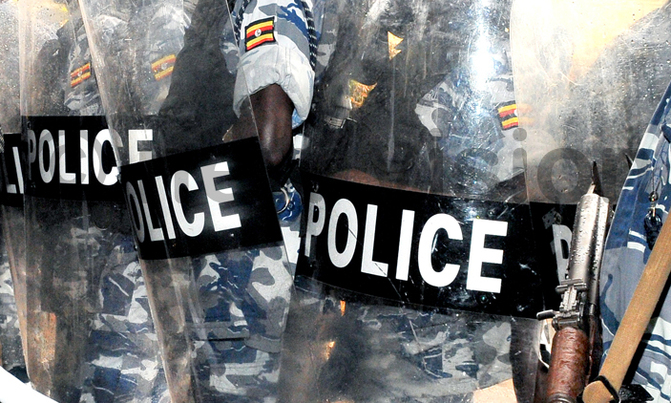 The suspect identified as Simon Odaku was shot in the left leg
Hardly a week after a suspect only identified as Ashraf, was gunned down in Kampala as he attempted to disarm a cop, Robert Okiria, at the old taxi park, Police on Friday night in Kira division, shot and injured another man, who tried to grab a gun from officers on foot patrol.
The suspect identified as Simon Odaku was shot in the left leg before he was rushed to Mulago Hospital for treatment.
According to the Kampala Metropolitan East Regional Police Commander, Siraje Bakaleke, the suspect is hospitalised although under security surveillance.
"We shall question him to establish the motive once he is discharged," Bakaleke said.
The Kampala East criminal investigations chief , Ronald Bogere, said while on routine foot patrol, officers of Najeera II Police post ambushed three men in a 'dark spot', within the area and asked them to identify themselves, but in vain.
"The suspects opted to fight the cops and grab their guns. Among the officers, one fired a warning shot in the air but the suspects were resilient. When Odaku aimed at the officer, that is when he was shot in the leg," Bogere said.
According to Bogere, Odaku's accomplices fled and police is hunting for them. Explaining the patrols within the area, Bogere said they are normal and aimed at keeping security and safety of residents.
"When stopped by Police, it is better you explain rather than attacking a cop," Bogere said.
Last week, Police intensified both foot and motorised patrols in the city centre after Okiria was stabbed in the neck as assailants attempted to grab his gun at the Old Taxi Park.
The Inspector General of Police, Gen. Kale Kayihura, hailed Okiria for being brave, calm and a professional officer.
"Imagine he was attacked but first fired a warning shot up in the air before neutralizing the attacker," he said.
His observation followed a visit to the scene of crime (Old Taxi Park) last Friday. Kayihura explained that the patrols are aimed at thwarting anticipated threats of violence in Kampala.
During the scuffle, Ashraf was shot twice in the head by Okiria who is attached to Police's field force unit.
Eyewitnesses said before Ashraf was gunned down, he stabbed Okiria in the neck using a sharp object.
Ashraf's body is still at Mulago Hospital mortuary. The Police said they want to hand over the remains to the relatives, but by press time, none had showed up.
The three victims, who sustained injuries during the shootout, are still admitted at Mulago Hospital, according to Kampala Central Police Station commander, Aaron Baguma.
The hospital's spokesperson, Enock Kusasira, could not be reached for comment, as calls to his known mobile phone number went unanswered.
Kampala Metropolitan Police spokesperson Patrick Onyango told New Vision that security was on high alert and was also hunting for the deceased's accomplices.
Without revealing their identities, Onyango said: "Four thugs attacked Okiria, aiming at his gun, but he managed to neutralise one. We are hunting for the other three."
He said the survivors (attackers) took advantage of the many travellers in the park and eluded Police arrest.
Last Monday, the Police admitted that some of their officers collude with criminal gangs to carry out criminal activities in Kampala and other parts of the country.
Assistant Inspector General of Police Fred Yiga said some of their officers at various ranks were reportedly working with criminal gangs such as Kifeesi.
Police Standards Unit commandant Fortunate Habyara said they have so far arrested 100 officers in connection with corruption.