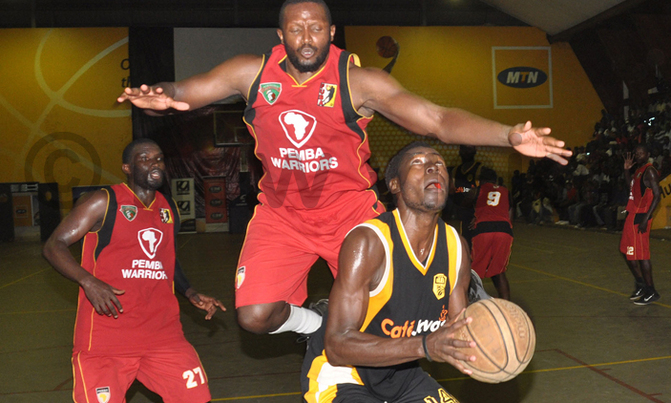 In overtime the Oilers outscored the Warriors 17-12
City Oil 78 Pemba Warriors 73
Magic Stormers 49 KIU Rangers 57
City Oilers remain unbeaten in the National Basketball League after another hard fought win over the Pemba Warriors at the MTN Arena, Friday night.
The defending champions won 78-73 in overtime to register their ninth victory of the campaign and proving they might as well win the championship if their opponents don't step up their game.
And stepping up will include getting the basics right especially against the ruthless Oilers who once again showed they are up to any local challenge after being tested and stretched by the Warriors.
The Oilers were on the verge of losing their first game but thanks to a poor shooting outing for the Warriors they once again found a way out with Jimmy Enabu once against proving unstoppable with a game high 21 points.
Jonah Otim added 14 points from the bench for the champions, who also had Kami Kabange (13pts+9 rebounds) and Landry Ndikumana (10pts+8 rebounds) in double figures.
The Oilers started stronger leading the first quarter 16-14, but it was Warriors second quarter display that shocked the fans.
The Warriors could only make turnovers in the opening three minutes and had only scored just a point by the seventh minute and only managed 5 points in this period where the Oilers scored 15; racing into a 31-19 half time lead.
The Warriors put on a better show in the third period, defending and pressing well but shooting including from the charity line remained their undoing but later capitalized on the Oilers' lapses to level the game 51-51 four minutes to end of third quarter.
The Warriors then took the lead with 1.49 second to go but Jonah Otim scored five quick points for a 61-58 lead with 39 seconds on the clock. But the Oilers turned over the ball offering Ronnie Kasewu strike uncontested 3 point buzzer beater to send the game in overtime.
In overtime the Oilers outscored the Warriors 17-12 with Warriors missing to win an exciting encounter because of poor shooting from the likes of Phillip Ameny (16pts), Kasewu (12pts) and Stephen Okias who had chance to seal it but failed with the former missing 3 of his 4 free throws and the latter wasting a simple lay-up and a 3-point attempt after Oilers' big men Kami and Ndikumana had fouled out.
In the ladies game KIU Rangers won their first game from 8 with a 57-49 win over the Magic Stormers.