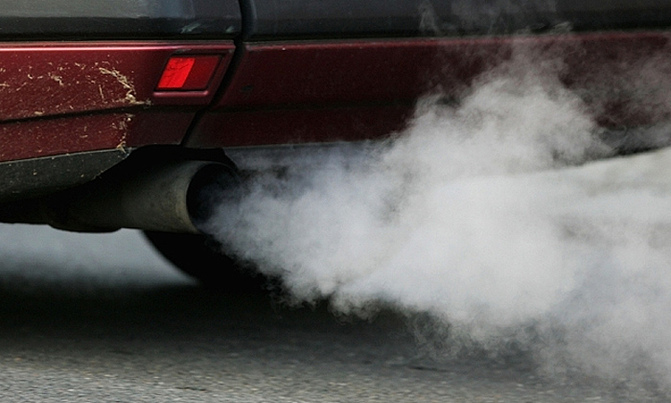 While there are many pollutants in Kampala's air, the particulate matter was the only one that was above the WHO standards.
PIC: Vehicle emissions are one of the leading contributors of air pollution the world over. (AFP/Getty Images)

Residents of Kampala and Jinja should brace themselves for harder times as the air they breathe becomes polluted by the day, scientists at the Makerere University School of Public Health have warned.

Dr. Bruce Kirenga, in a study The State of Ambient Air Quality in Two Ugandan Cities, determined that the mean air pollution in Kampala and Jinja is 5.3 times in respect to safe levels recommended by the World Health Organization (WHO).

While there are many pollutants in Kampala's air, the particulate matter was the only one that was above the WHO standards.

According to the environment and protection agency of the US, particulate matter (PM) is defined as a complex mixture of extremely small particles and liquid droplets. Particulate matter is made up of a number of components, including acids, organic chemicals, metals, and soil or dust particles.

"The mean PM concentration is 5.3 times the World Health Organization (WHO) cut-off limits, while the nitrogen dioxide, sulphur dioxide and ozone concentrations are below WHO cut-off limits," states the 2015 report authored by a team led by Kirenga.

The WHO limits for particulate matter are 25 micrograms per cubic meter while the estimated levels of particulate matter for Kampala and Jinja is 132 micrograms per cubic meter.

The WHO and the US Environmental Protection Agency (USEPA) have defined the guideline limits for these pollutants (particulate matter, sulphur dioxide, and ozone) which should not be exceeded in order to maintain and protect public health.

Children in peri-urban areas most affected

Kirenga said the study sought to determine the amount of solid particles and pollutants in the atmosphere and their effect on children's lungs and asthma. Children aged below 15 years in peri-urban areas are the most affected.

The study indicated children in rural settings had "better and less damaged lungs" than children in urban settings who were exposed to a multitude of pollutants in the air.

But children in semi-urban areas, especially in central Jinja, who were exposed to outdoor pollutants from factories and car emissions and at the same time exposed to indoor pollutants from the use of charcoal and soot from paraffin-use, had the "worst" lungs.

"These children suffered a two-pronged danger. Their outdoor is contaminated; same as their indoor," Kirenga said.

Kampala has different levels of pollution

As one enters the city along Masaka road, they are likely to find high concentration of waste gases around Natete. This is likely to reduce as one continues to Lungujja and Mengo. Then as they move through Gaddafi road and Makerere Hill road, it will drop further.

Naguru and Kololo have the lowest levels of dirty emissions in Kampala.

The study also pointed out that industrial areas, commercial areas and residential areas with unpaved roads were more polluted than residential areas and office areas with paved roads.

NEMA rubbishes report

According to Dr. Tom Okurut, the executive director of the National Environment Management Authority (NEMA), the top authority on the environment cannot rely on the study to conclude that Kampala air is polluted.

"What is true is that there is vehicular emissions that have been changing over time," said Okurut, adding that this has created hot spots in different parts of Kampala.

Okurut also pointed out the emissions such as carbon dioxide are high in parts that are congested, particularly downtown, but that this does not mean that Kampala's air is polluted.

"I know there are spikes [sudden increase in concentration of waste gases] but this cannot be relied upon to conclude that Kampala air is polluted."

Okurut said the World Bank has provided funding to procure equipment for determining air quality and NEMA will soon put in place air quality standards.

KCCA reacts

To overcome pollution, Peter Kaujju, the spokesperson for Kampala Capital City Authority (KCCA) said they were working with Government to relocate the industries to the industrial zones such as Namanve.

He said Government put an environmental levy to control the old vehicles imported into the country.

KCCA is working with NEMA to protect and restore Kampala's wetlands and plant trees that could help and sink the waste gases, added Kaujju.