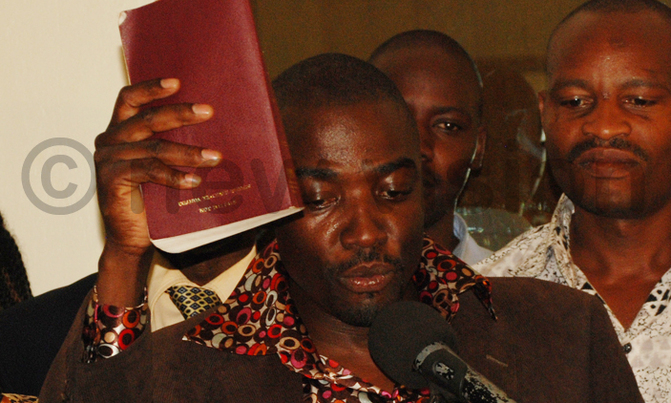 He has served in two previous councils headed by Godfrey Nyakana
The central division mayor Charles Sserunjogi has appointed Sam Gombya as his deputy mayor for the Central Urban Council.
Gombya also a councillor representing Persons with Disabilities in Kampala Central, was approved by all the councillors who commended Sserunjogi for the best choice.
During an ordinary meeting held at the Zion Hotel in Kampala, Sserunjogi said his choice for Gombya comes after several consultations and his service with Kampala Central for 10 years.
Before he proposed the name to the council for approval, Sserunjogi said that although all the councillors qualified for the office, the KCCA Act empowers him to make only one appointment.
"You all have the capacity to serve as my deputy, but I have to pick only one person. I have done full consultation, scrutiny and looked at his documents. I have made a decision. Allow me as Mayor to appoint, Sam Gombya" he said.
Gombya's appointment was seconded by council Hasfa Namboozo who said that Gombya is a married man of adult age and has the character to unite people.
"I have worked with Gombya for the last 10 years in this council and I think is the best choice," councillor Eleiza Katawera Kamwokya also said.
Sam Gombya is an artiste and radio presenter married to Sophie Gombya also an artiste.
He served in two previous councils headed by Godfrey Nyakana.
In his acceptance speech as the deputy mayor, he pledged to work with all councillors regardless of their political affiliation.
"I want to assure you that I will work with all councillors of this urban council, irrespective of their political affiliations" he said.
Addressing council Sserunjogi told the councillors to always promote relevant laws, respect the rule of law and also work harmoniously with the technical team of KCCA.
Sserunjogi also told councillors that they are free to deliberate in any local language including Swahili for as long as their message is delivered in the council meetings.
"I appreciate a functional council and that is why I have introduced these three languages, feel free to deliberate in any of those languages" he said.