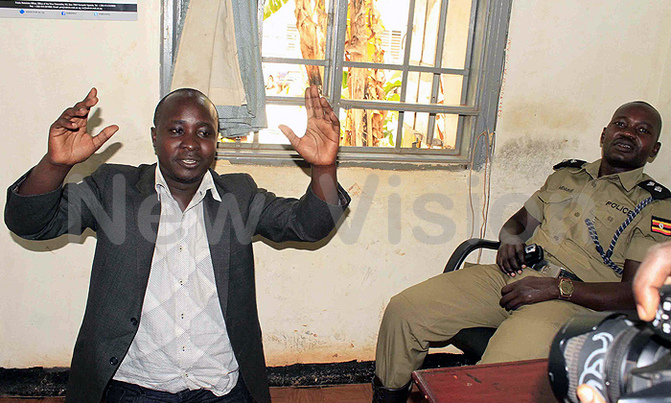 "He [Bp Tugume] personally called me up, so we started tracking down the number until we netted him [Lukooya] this morning."
KAMPALA - The police have arrested a 27-year-old man who has been masquerading as different bishops on social media to dupe people.

Shaka Lukooya was nabbed from Senge village Naluvule in Wakiso district after being tracked by police for the past three months.

A police source said the suspect has been opening up Facebook accounts in various names of religious leaders - especially bishops - and sending friend requests to unsuspecting victims whom he would later ask for money for bogus church projects.

"Bishop Patrick Tugume of North Kigezi diocese lodged a complaint at Rukungiri Police Station that a person was asking various people for money in his name and availing them a number to send the money to yet he has never done anything of the sort," said SP Jackson Mucunguzi, the chief security officer of Makerere University where the suspect was detained.

"He [Bp Tugume] personally called me up, so we started tracking down the number until we netted him [Lukooya] this morning."

Lukooya would reportedly tell victims that he was stuck somewhere or inform them of a church project that needs funding before availing them with a phone number to send money to in the Facebook messages he sent out.

City tycoon Ben Kavuuya received a Facebook message from a fake Bishop Patrick Tugume Facebook account run by Lukooya asking him for sh100,000 urgently as he was reportedly stuck.

What Kavuuya did was to telephone the real Bishop Patrick over the communication, to which the clergyman refuted any responsibility of the Facebook message.

"Kavuuya availed us with the number [for sending money to] he got from the message on Facebook and we started tracking the suspect until we nabbed him today in Wakiso," said Mucunguzi.

"We believe many people have been fleeced of their money over time."

Among the religious leaders that Lukooya masqueraded as include Namirembe Diocese Bishop Wilberforce Kityo Luwalira, North Kigezi Diocese Bishop Patrick Tugume, Kiyinda-Mityana Diocese Bishop Joseph Anthony Zziwa, Kabale Diocese Bishop Callistus Rubaramira, Hoima Diocese Bishop Albert Edward Baharagate.

Others are Mukono Diocese Bishop James Ssebagala, Muhabura diocese Bishop Cranmer Mugisha, South Ankole diocese Bishop Natahan Ahimbisibwe, Bishop Lambert Bainomugisha of Mbarara and Bishop Joseph Mugyenyi.