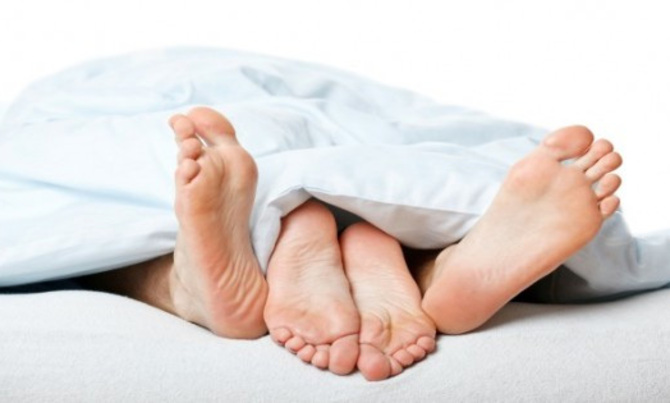 18- to 29-year-olds have sex an average of 112 times per year, while 30- to 39-year-olds do the deed on average 86 times per year.
The question is, how much sex is ideal, and how much is too much? According to the Kinsey Institute, 18- to 29-year-olds have sex an average of 112 times per year, while 30- to 39-year-olds do the deed on average 86 times per year. So if that's average, what's healthy?
Kerner says most couples in a relationship should be having sex at least once per week. Couples therapist Barry McCarthy, Ph.D., agrees that once or twice a week makes for a healthy sex life. During the infatuation stage (a.k.a. the honeymoon stage, when two people can't stop thinking about each other) couples often have sex every time they're together, Kerner says. And when couples first move in together, the frequency of sex increases, but only temporarily.
If sex gets in the way of leading a healthy life, it may be part of a more serious issue. If your sexual impulses feel out of control, or you're having sex to avoid feeling lonely or depressed, or you're having sex despite risky consequences (like contracting an STI or losing a partner), this might be the sign of a problem.
Sex obsession—sometimes called hypersexuality, compulsive sexual behavior, sex addiction—is a subject still up for debate. While many sources maintain that sex addiction is a psychiatric disorder, a study published in 2013 suggests that much of the time, hypersexuality is really just high desire and not necessarily a medical issue. Regardless, if sex is being used as a substitute for dealing with a real issue, it's best to consult a doctor or therapist.
At the end of the day, it comes down to quality over quantity. Having sex daily doesn't mean it's too much, so long as both partners enjoy it, Kerner says. But if partners are regularly having sex and one person feels more satisfied than the other (read: is having more orgasms), sex can start to feel like a chore for the less-satisfied party.
Of course, there's no right way to go about sex, and the preferred amount varies from person to person. For a fulfilling sex life that's just right, it's helpful to be honest and open with your partner(s) about how frequently you'd like to be intimate. And that doesn't mean it needs to be a boring discussion. Telling your partner about your desires—in specific terms—can be highly erotic. In fact, one study found that couples who communicate about sex, especially during the act, are more sexually satisfied. Simply put: There should be mutual enjoyment, whether that means giving or getting.
Having sex on the regular is part of a healthy, normal adult life. But when sex gets in the way of your day-to-day, it might be time to seek professional help from a doctor or therapist. Our appetites for sex grow and shrink, and successful couples need to manage those ups and downs. Sometimes libidos will match up, but when they don't, Kerner says we need to take responsibility for our sexuality by enjoying ourselves by ourselves.