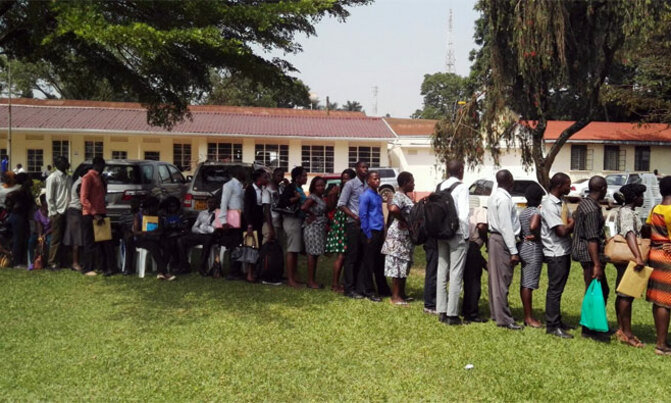 Every year, Ugandan universities release 400,000 job seekers into the market yet there are only 90,000 opportunities available.
The youth have been advised to shun the common phrase Gavumenti etuyambe (let the Government help us). The advice was given by David Kasimbazi, the project coordinator of the Centre for Urban Governance & Development, during a public dialogue at Victoria University, Kampala recently.

"Stop chorusing Tusaba Gavumenti etuyambe because universities are producing 400,000 new job seekers every year. Instead, ask yourself how you are going to outcompete the others for the available 90,000 jobs. I challenge the youth to get out of your comfort zones and start doing something productive," he said.

Kasimbazi also urged the youth to be strategic, so that they benefi t from government projects. "For example, how many youth are prepared to exploit the forthcoming construction of the light rail in Kampala?" Do you want to see Chinese drive the trucks, break rocks and lay the bricks?"Kasimbazi asked.
Quoting the Uganda Bureau of Statistics (UBOS) report, which puts Uganda's population at 78%, Kasimbazi said this is an opportunity that has to be exploited. Other speakers urged the youth in urban areas to read widely, multi-task and equip themselves with good skills.

"Gone are the days when to have a degree in law, accounts or social work was not enough. Be prepared to have an edge. It could be speaking more languages, socialising or doing voluntary work," Proscovia Vickman, a facilitator at the workshop, said.

The dialogue was crowned with success stories from youth entrepreneurs, who encouraged their peers to be creative. "After graduation, I began the Kay Errands business," Beatrice Kamukuhe, an entrepreneur, said. "I started off with peers I went to school with, friends and family members," she said.

Within 30 days, the company was employing six people with savings of sh4m, she added. Lydia Namayengo, another youth entrepreneur urged her colleagues to seek knowledge at all times.