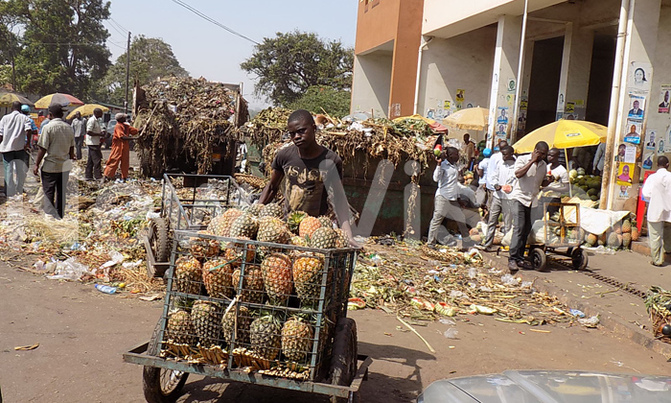 "It unfortunate that officers grab your goods and (...) take them to their families."
Mbale municipal council law enforcement officers have been accused of eating and selling exhibits confiscated from street vendors during a recent eviction exercise.

This comes after Mbale municipality embarked on the eviction of vendors of food and other merchandize from the streets of Mbale town.

The affected hawkers have appealed to the office of the resident district commissioner and town clerk to intervene in the matter.

"Its true that council warned us to vacate the streets but this doe s not mandate their law enforcement officers to grab our eatables and take to their families or sell," said one of them, Edwin Wabwala.

He also accuses the officers of pickpocketing them during the eviction exercise

"It unfortunate that officers grab your goods and instead of burning them or giving them back to you after a paying fine, they take them to their families while ours go hungry," said Joanita Nandudu, who sells roasted chicken.

Some people from the public told New Vision that the law enforcement officers should not risk consuming the goods they confiscate.

"A vendor can decide to poison the foodstuffs," reasoned one.

But Mbale municipal council deputy town clerk, Kenneth Katuri offered no specific comment, saying no vendor had approached his office over the matter.
Recently Mbale Municipality law enforcement officers backed by heavily armed antiriot police officers started combing the streets in a move to evict vendors from the streets.

The operation was headed by chief law enforcement officer Joseph Wangisi.

It is understood the eviction followed complaints by some of the rich businessmen and women operating along Bishop Wasike road, Naboa road, Foods and beverages road , Pallisa road, Republic Street and Kumi road.

The authorities first issued a warning notice then followed by sensitization of the vendors to leave the streets and occupy spaces within the various markets.

Many did not heed the warning signal.

James Kutosi, the spokesperson for Mbale municipality, said they have allowed vendors to operate in specified alleys that connect Mbale Bishop Wasike road to Foods and beverage road.

He says that they carried out the eviction to restore sanity and order in the area, adding that they were particularly concerned that the sellers had turned Mbale town into an open market and hub for phone grabbers.