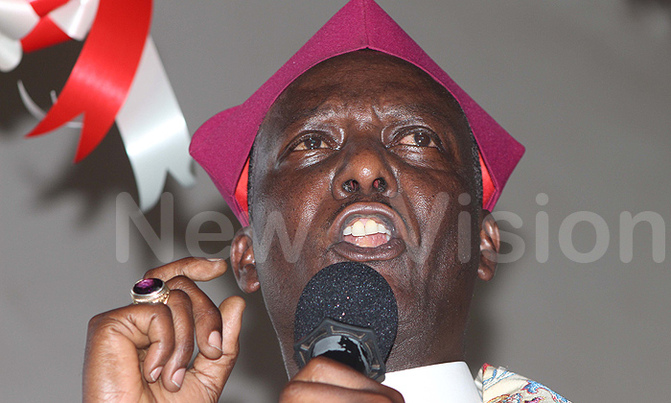 "Inform our trust in God because leadership is solely from God, not from witchcraft."
SOROTI - The assistant bishop of Kampala Dr. Hannington Mutebi has warned both political and religious leaders against such practices as going to witchcraft places with the hope of becoming powerful.

He said most leaders have resorted to witchcraft instead of God to attain leadership, saying the practice was taking away the spiritual values among the people of God.

"Inform our trust in God because leadership is solely from God, not from witchcraft. As leaders I implore you to recognize the Lordship of Jesus," he preached.

Mutebi was a guest preacher on Sunday at St Peter's Cathedral, Soroti during the installation of lay and clergy canons. Eleven lay canons and 12 clergy canons were installed by Soroti bishop George William Erwau.

The church also used that time to bless the newly elected leaders at various levels.

Bishop Mutebi first directed his sermon to political leaders before turning to the newly installed lay and clergy canons.

"In your respective calling as a leader you must not rush issues. Present these issues to the Almighty God," advised the bishop.

And to the canons, he urged them to live a holy life by being good examples in the society they serve in.

"It's bad for us to hear that the canon that was installed is polygamous or drunkard. Sometimes you bribe bishops to make you a canon. That is not right."
Soroti LC5 chairman Michael Egunyu greets the newly installed canons after he was blessed by the bishop. (Credit: Godfrey Ojore)

The function attracted the people from Teso Kenya led by their bishop Zack Ekude.

Bishop Erwau urged the newly installed clergy canons to guard against acts of commercializing the word of God.

He said there are leaders who were charging Christians money so that they are prayed for, something Erwau insisted should not be tolerated by church.

Meanwhile in his maiden speech, Musa Ecweru spoke of why he has been maintained as state minister for disaster for now 11 years.

"It's not because I am powerful or special but because my God is in control! My God is taking in-charge of me by using the people of Amuria and touches President Yoweri Museveni to keep me there as state minister for disaster."

Ecweru was the only minister in Teso who was maintained in the new cabinet that saw two senior ministers that include Jessica Alupo for education, Rose Akol Okullu and junior Teso affairs ministers dropped.

The three former ministers, also MPs, were defeated in the February general elections in their respective consistencies.

Capt. Mike Mukula pledged to devote his time to serving the church now that he is out of elected politics.

Currently he is the chairman of building a committee of a new cathedral church that is going to cost sh3b.