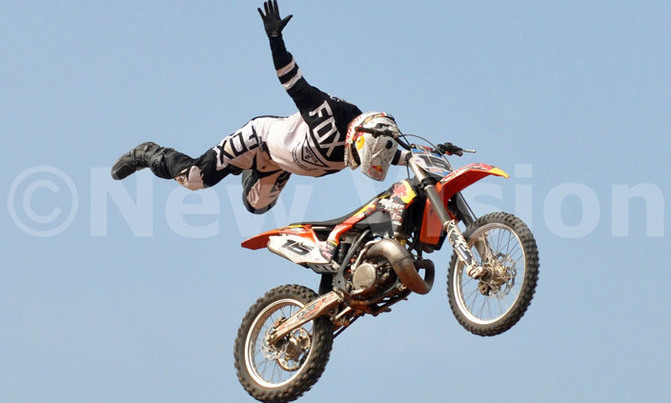 Target is to finish among the top five in each class to take the team to the East African and Africa Championship.
National MX Standings

MX1
Maxime Van Pee 180pts
Arthur Blick 147
Talha Kiggundu 129

MX2
Fatuh Kiggundu 180
Alestair Blick 138
Yasser Omar 96

125cc
Stephan Okenge 117
Yasin Kasirye 112
Rahim Constatidis 66

85cc
Ben Nsumba 145
Fortune Ssentamu 145
Wazil Omar 119

65cc
Imran Nkurunziza 147
Malcolm Lubega 126
Habib Kiggundu 122
50cc-Isabella Blick 156
Gift Sebuguzi 125
Alon Orland 117
Pee Wee
William Blick 169
Migel Katende 157
Kathra Balinda 125


The fourth round of the National Motocross Championships takes center stage Sunday as over 50 riders compete for points that will propel them to the top of each of their classes to emerge champions.

Target is to finish among the top five in each class to take the team to the East African and Africa Championship.

But today's main attraction is South African freestyle rider Nick De Wit who has promised to give Ugandan Motocross fans more of his trickery soon after jetting in on Thursday.

The 35-year-old rider who has travelled across the world to inspire the public with his world-class freestyle motocross antics has promised even better entertainment than his 2013 one when he was last here.




"I'm ready and I have added more tricks since I was here so fans should come in numbers to enjoy," De Wit told the media on arrival.

'Sick' De Wit as he is popularly known in South Africa and who has been ranked as high as number 5 in the world in FMX will thrill the fans with his tricks including; his favorite heel clicker flip , Cliffhanger, Hart attack, Indian express, rock solid and 'kiss of death' maneuvers among others.

He started riding motorcycles at the age of 13 on a Yamaha XT500 and he finished on the podium in his first ever race.


Today, as part of the FMX4EVER team, Nick travels around the globe to countries such as Brazil, Turkey and Egypt to inspire the public with world-class freestyle motocross.

Apart from the stylish performance from the South African those in love with speed will not be left out as the race for the national championship heats up among the local riders.

The biggest run is expected in the MX85cc class where Ben Nsumba and Fortune Ssentamu are tied with 145 points each.

Maxime Van Pee, Fatuh Kiggundu, Stephan Okenge, Imran Nkurunziza and William Blick Jnr are also looking towards maintaining their leads in the MX1-Pee Wee class respectively.