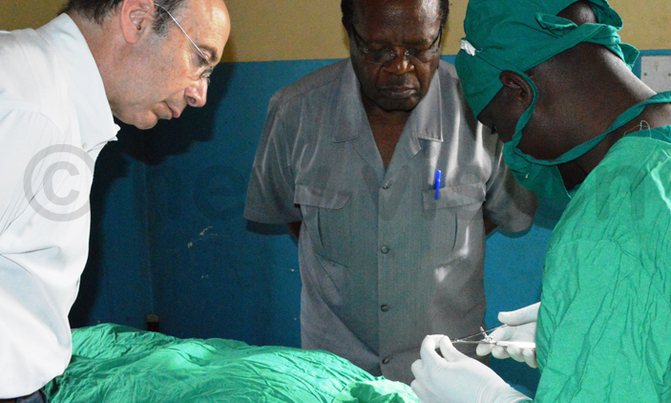 19,663 surgeries have been carried out in Busoga and Karamoja regions from 2014 to date
Uganda needs $1.5m (sh5b) to eliminate trachoma from the country by 2020, a trachoma elimination project administrator has said.
Polly Karimari Ndyarugahi, the Lions Clubs of Uganda-Trachoma Project grant administrator, revealed that they have already sought support from the Lions Clubs International Foundation (LCIF) to fund the treatment programme.
If approved, the sh5b grant will supplement an earlier $1m (sh3.3b) treatment grant that LCIF extended to thousands of Ugandans from 17 districts in Karamoja and Busoga regions in August 2014 to save them from blindness.
Dr. Michael Kakinda, the project coordinator, noted that they hope to carry out 38,000 trichiasis surgeries in Karamoja and Busoga regions in addition to about 10,000 surgeries in other parts of the country. "This is besides offering treatment to patients through organizing camps."
Kakinda said they were working with Carter Centre as coordinating partners, Sightsavers Uganda and Christian Blind Mission as implementing partners, and the Ministry of Health was overseeing the project implementation.
While presenting a mid-term evaluation report of the trachoma project at Nile Resort Hotel in Jinja on June 21, Peace Habomugisha, the Carter Centre country director said 19,663 surgeries have been carried out in Busoga and Karamoja regions from 2014 to date.
"Other endemic regions to be supported by the Trust Fund (West-Nile, Western, Eastern and Northern) with the estimated backlog of 8,000 patients (this may reduce further after impact assessment)."
"Before the project came in, we targeted to correct 38,000 surgery cases. We are remaining with less than 4,000 cases, and by 2017, we shall have worked on them" Sight savers country director, Dr. Johnson Ngorok said.
In Uganda, trachoma is endemic in 41 districts within the regions of; Busoga, Karamoja, Lango, Acholi, West Nile and Bunyoro. Kakinda noted that trachoma is mostly endemic in rural areas with; limited access to clean water, poor sanitation and poor social-economic status.
According to WHO, trachoma is an infection of the eyes that may result into blindness after repeated re-infections. Trachoma is caused by an organism called Chlamydia Trachomatis. Worldwide, trachoma is responsible for visual impairment of about 2.2 million people, with 1.2 million of them getting permanently blind.
Through the discharge from an infected person's eyes, trachoma is passed on by hands, on clothing, or by houseflies that land on the eyes of an infected person and move to another's.
According to a health ministry survey, trachoma is prevalent in 24 districts and these are mostly from Eastern and North Eastern Uganda.