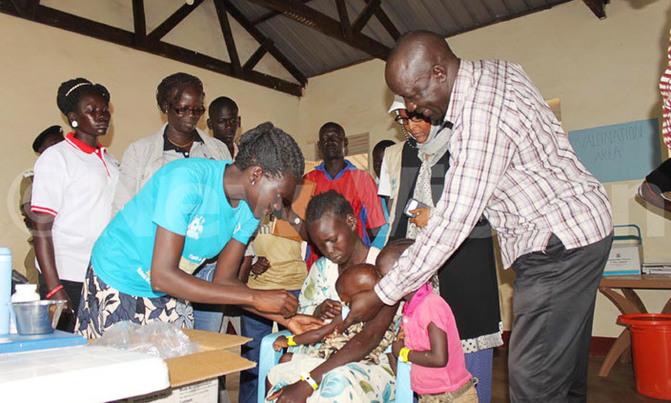 So far 4,000 South Sudan refugees have crossed into Adjumani district in March following continued hunger in Africa's youngest nation.
They are tired, hungry, look dejected and are carrying a few belongings, trudging to Elegu reception centre in Adjumani northern Uganda. Others crossed the border into Uganda on trucks and bicycles.

This centre receives hundreds of refugees daily, especially from Sudan, majority of whom are women, children and the elderly, comprising 80%. An average monthly arrival indicates that in January, 260 refugees came in and 146 in February. In March, they were 164, April 256 and May 260.

So far 4,000 South Sudan refugees have crossed into Adjumani district in March following continued hunger in Africa's youngest nation.

Statistics from the Prime Minister's Office indicate that more than 130,000 South Sudanese are living in 16 refugee camps in Adjumani.

In an interview with some of refugees, lack of food, conflicts in the communities and lack of access to social services were the major reasons they gave for fleeing their country.

According to Jamila Wadra, an asylum seeker who fled from Eastern Equatorial Province, in South Sudan, the situation is still tense, culminating into hunger as people are unable to go to gardens.

The ever increasing number of refugees flocking to Uganda has prompted the state minister for disaster preparedness and refugees, Musa Ecweru to urge the donor community not to neglect South Sudan until they attain total peace.

Ecweru, while visiting Elegu centre during the recent World Refugee Day celebrations, noted that the donor community should continue supporting South Sudan because the situation in the young country is still alarming.

"We continue to receive refugees in hundreds every day. My call to our friends who are helping Uganda to manage the refugees and the international community is not to stop."

Although a Comprehensive Peace Agreement also known as the Naivasha Agreement that was signed in January 2005 between the Sudan People's Liberation Movement and the government of Sudan was meant to end the war, develop democratic governance countrywide and share oil revenues, it has not lived to its expectations.

The influx of refugees reflects that there is still no peace in the youngest country in Africa.

Following the peace agreement, Ecweru said the Office of the Prime Minister and the refugee office said they planned for a small percentage of refugees, only for the number to be surpassed.

"Our projection was inaccurate. The projection was based on understanding that with the peace agreement in South Sudan, there was going to be total resolution of conflicts there and then so no reason for people to continue fleeing to Uganda, however we were wrong," he stressed.

He, however, assured the refugees that Uganda will continue to look after them until there is peace in their country. "It is not that we have a lot of resources, but because we understand that being a refugee can happen to anyone," he said.

Refugee numbers
According to the UNHCR, there are 59.5 million forcibly displaced people around the world.

Nearly 20 million of these people are refugees and 10 million are stateless.
An average of 42,500 people per day flee their homes to seek protection within the borders of their own country or other countries.

In the last year alone, there have been 13.9 million people newly displaced.