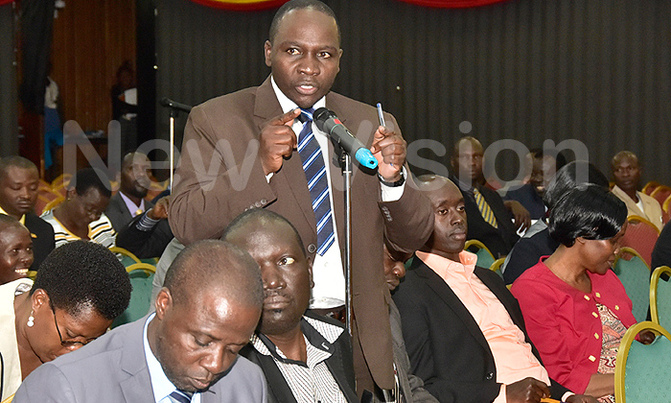 "The strategic plan will enable parliament achieve improved accountability for public funds" and more.
KAMPALA - Members of Parliament have called for various initiatives which will make parliament more independent in executing its constitutional mandate.

The MPs were responding to the highlights made by the parliament director for planning Dison Okumu about the draft strategic plan aimed at ensuring that parliament becomes transformational, independent and people centered by 2020.

The plan was unveiled by at parliament during the ongoing orientation for MPs about parliamentary service.

Okumu implored the legislators to focus on the plan for the realization of increased public involvement and participation in parliamentary business.

"The strategic plan will enable parliament achieve improved accountability for public funds, improved representation, constitutional democracy, and national development as the country moves towards the realization of vision 2040," Okumu elaborated.

He indicated that with effect from July MPs would be consulted to have their input in the strategic plan.

Katikamu South MP Edward Ssembatya said, "The strategic plan they have presented is good. As the arm of the state constitutionally mandated to carry out oversight over the executive, we have to be independent. We need to ensure that as people's representatives, our work is guided by the wishes of those we present."

Agago County MP Edward Otto Makmot said, "The plan is a step in the right direction because we are representatives of people. I agree with it. I think the parliamentary leadership has to ensure that for every Bill, MPs have to be sent back to their constituencies to gather their views."

Kasilo County MP Elijah Okupa said, "Independence of parliament requires us to guard against the influence from the executive. MPs should not allow to be used. They need to be empowered to be driven by their oversight role. They should guard against individual interests and focus on the public good."

Rubanda West MP Eng. Denis Sabiti proposed that party causes should be controlled so that legislators frequently present interests of their constituencies on matters before parliament.

Kabarole Woman MP Silvia Rwabwogo called for consultation prior to passing of laws.

"In the 9th parliament, I remember it was only when the House was handling the Marriage and Divorce Bill that MPs were sent back by the Speaker to consult their constituencies. For all the other Bills (102) which were handled, MPs were not sent back to consult their constituencies," she stated.

On having a people-centered parliament, Mbale woman MP Connie Galiwango proposed that there should be events of taking the parliament to the people through the speaker's countrywide tours and MPs always consulting their constituencies on matters before parliament.

Busiki County MP Paul Akamba said, "We need to initiative measures to ensure government implements recommendations and resolutions of parliament. In the 9th parliament many good resolutions made by parliament were never implemented yet parliament wasted a lot of taxpayers' money to come up with such reports."

During the orientation, the parliament director for research John Bagonza Mugabi appealed the MPs to utilize his department to always conduct research for them to improve the quality of their deliberations in plenary and committee discussions.

Citing examples of Kenya, Zambia and UK where legislators have personal researchers paid by parliament, Kiboga East MP Dr. Kefa Kiwanuka suggested that Uganda parliament facilitates MPs to have their own researchers to improve the quality of their legislation.