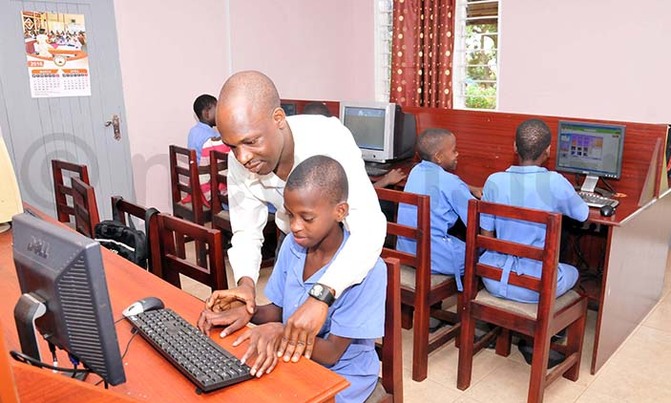 The amenities have been contributed by donors for over ten years
When in 1959, the Church of Uganda leased a piece of land to the Uganda Society for the Deaf, a safe haven for the deaf children, the first of its kind, was opened to the public.
From the receipt of their first student to the move to Ntinda, the school has had a fair share of ups and downs in their struggle to give the deaf and the deaf-blind a chance to education.
A glance at this school's four dormitories and 15 classrooms gives you the picture of a mixed environment of upgraded and dilapidated structures, an unlikely contrast in other schools in Ntinda.
"When I came here about 10 years ago, the school was in a worse state. Our pupils had to line up for water from one tap. There were no computers and the electricity was only in a few rooms," says Jackson Mbuusi the school principal.
Mbuusi adds that in a school where the main aim is to enhance communication, the scarcity of electricity was a big challenge.
"The deaf pupils needed light to study and we barely had any light," he recalls.
According to Mbuusi these amenities have been contributed on a one by one basis by the donors over the ten years.
"The donors are the ones who have kept us going," he says.
Blessing
Recently, at an event attended by Dr. John Muyingo, the state minister for primary education, a global construction company called SBI International Holdings launched a campaign to rescue the dire state of the struggling school.
The engineers put final touches to the reconstruction of the bathrooms and toilets for the young girls' section from an open cracked cement floor to a modern tiled floor, replacing the doors and establishing drainage channels.
They also boosted the school with better ICT facilities.
Assistance from the donors and companies like SBI is only a step towards addressing multiple challenges for schools for the disabled in Uganda.
Dotan Hameiri, the Operation and Administration Manager at SBI says that they had adopted the school two years ago to try and assist.
This is part a global campaign by Arison Group; which SBI belongs to and is run in 60 countries. The campaign is dubbed, "Doing good" campaign that is run in about 60 countries by the.
''In appreciation of SBI's commitment to "doing good" Efrat Peled the group Chief Executive Officer chose to visit Uganda out of the 60 countries. Efrat is ranked by Forbes as one the world's 70 most powerful women today."
Dotan says that the choice of this school was prompted by the poor state in which the pupils and teachers were before the intervention, which he believes was hampering the growth and study of the pupils.