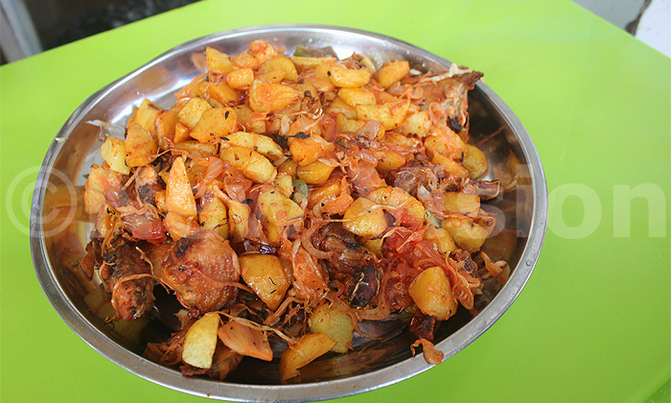 It's lunch-time and your tummy is yearning for a refill. Chicken? Anyone?
FOOD & PLACES

Guess right what the word Wandegeya means and a mouth-rioting treat awaits you in a place next to Makerere University Kampala.

Once upon a time, it was home to weaver birds when it was still treed.

By then the area had a chorus of weavers tweeting 24-seven, so the residents then baptized the area Wa Ndegeya (place of weaver birds).

Now that you know, let's look beyond birds that weave nests and settle for those that you love seeing on your plate . . .

It's lunch-time and your tummy begs for a refill. It won't take you more than five minutes to get to Wandegeya from the city centre - only if there is no jam.

While there, ease into any of the many eateries and you will be sure to find a reception of smiling men and women now tweeting a chorus of "Karibu ssebo/nyabo".

He who pays the piper calls the tune, goes the old adage. And the Wandegeya air is wafted with the numerous scents of French Fries (chips) bubbling in oil, chicken roasting and salads being chopped with expertize. And of course it's chicken that has brought your appetite all the way to this location.
'TV chicken' is a work in progress. Only your tastebuds will get to know how rewarding the wait is! (Credit: Titus Kakembo)

You will have to part with sh15, 000 for a whole carefully grilled bird - oozing nothing short of deliciousness. But if you don't have the space to stomach a full chicken, a piece goes for sh5, 000.

A plate of chips has a price tag of sh3, 000 and kacumabali (diced onions and tomatoes) goes for sh1,000. You can have the kacumbali peppered - if your taste buds are interested.

Takeaways are in vogue. But those with time on their hands can sit on a plastic chair and munch the juicy chicken pieces with a bottle of beer, water or soda.

Give it a try - there will be no regrets. I have met Moslems breaking their fast and taking their futari portions there.

The other Sunday an Indian diner forgot his mobile phone after a meal. He got it back after parting with sh80,000 to reward the picker. Wow!

Now that's modern Wandegeya for you!