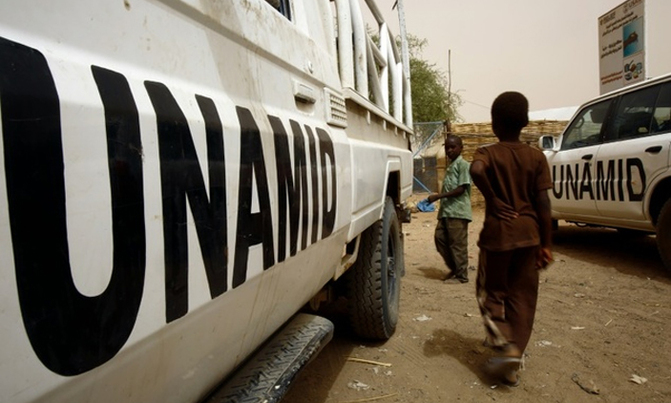 A report by UN and AU recommends that UNAMID's mandate be extended by another year
Sudan summoned Sunday the head of the international peacekeeping force in Darfur after the UN recommended a one-year extension of UNAMID's mission despite Khartoum's reluctance.
About 20,000 troops and policemen from more than 30 countries are currently inSudan's western region of Darfur as part of the African Union-United Nations mission, UNAMID.
A report by UN chief Ban Ki-moon and the Chairperson of the African Union Commission, Nkosazana Dlamini Zuma, recommends that UNAMID's mandate be extended by another year.
The report which was submitted to the Security Council cites the "limited progress" made to reach a viable solution to end the conflict in Darfur that has killed tens of thousands of civilians since 2003.
"With tens of thousands of people newly displaced in 2016 and approximately 2.6 million remaining displaced in Darfur, civilians across the region continue to bear the consequences of the volatile security situation," the report said.
It recommended extending UNAMID's mandate -- which expires at the end of the month -- "for 12 months, until 30 June 2017."
The UN Security Council is expected to meet before the end of June to endorse or reject the recommendation.
Khartoum insists that unrest in Darfur has ended and has stepped up pressure for a complete exit of the international peacekeepers from the war-torn region, where they have been deployed since 2007.
On Sunday, Sudan's foreign ministry summoned UNAMID chief Martin Uhomoibh to discuss the report, the ministry said in a statement.
"The report by the African Union and the United Nations consists incorrect information about the humanitarian and security situation in Darfur," it said.
Last month Sudan's Minister of State for Foreign Affairs, Kamal Ismail, said: "It's time to say goodbye to the UNAMID mission."
"This mission came to protect civilians, but now there is no danger to civilians, there is no conflict in Darfur," he added.
Violence erupted in Darfur when ethnic minority rebels rose against President Omar al-Bashir, accusing his Arab-dominated government of marginalising the region.
Bashir mounted a brutal counter-insurgency and at least 300,000 people have been killed in the conflict, the UN says. Another 2.5 million have fled their homes.
'Conflict persists'
Khartoum says that an April referendum -- boycotted by the opposition and criticised internationally -- in Darfur "turned a page" on the Darfur conflict.
Officials said almost 98 percent of voters opted to maintain the region as five separate states.
The UN report insists that the conflict is far from over.
"Intercommunal fighting and incidents of violence against the civilian population by criminal groups and militias have continued to spread, despite the government efforts to contain them," it said.
In May, Arab tribesmen shot dead eight ethnic minority villagers as they prayed in a mosque, in a revenge killing in West Darfur.
In April, as many as 20 people were killed in clashes between two rival Arab tribes in East Darfur sparked by livestock thefts.
"Some 2.7 million people now face crisis or emergency levels of food insecurity in Darfur," the UN report said.
For peacekeepers to exit from Darfur, certain benchmarks have to be achieved, including protection of displaced civilians.