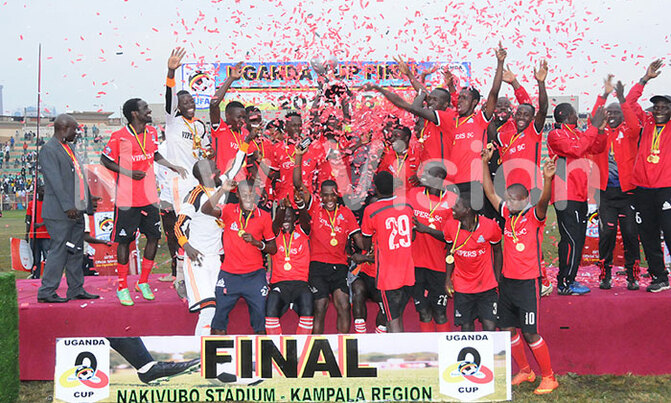 Pius Wangi scores twice as Vipers SC beat Onduparaka in the Uganda Cup final.
UGANDA CUP FINAL

Vipers SC 3 Onduparaka 1

KAMPALA - Vipers SC brushed aside Arua-based side Onduparaka FC to lift the Uganda Cup for the first time at Nakivubo Stadium on Saturday.

Erisa Ssekisambu gave Vipers the lead 16 minutes into the opening half before Pius Wangi doubled the advantage at the half-hour mark.

Gadaffi Wahabu tucked in beautifully a free-kick from 30 yards out to pull one back for Onduparaka 11 minutes before the break and provide much-needed respite for the vibrant travelling fans.

But with less than 25 minutes left on the clock, Wangi netted his brace of the day and a third for Vipers to all but snuff out any lingering hopes for the visitors in a pulsating, entertaining final played on a damp turf.

George Nsimbe's side will now represent Uganda in the CAF Confederations Cup next year.
Despite returning home without what they had travelled all the way to Kampala for, Coach Allan Kabonge and his inspired Onduparaka team will draw plenty of positives from their Uganda Cup experience.

Theirs seems a story that could nearly fit into the category of English Premier League shock champions Leicester City who beat all odds to stun the world.

Only recently promoted to the Premier League, the West Nile outfit forged an impressive winning streak that had top-tier sides SC Villa and Soana FC suffer as casualties.

Just like Leicester, they have earned themselves several new fans, with many trying to roll their tongues around the rather tricky name: O.N.D.U.P.A.R.A.K.A. ahead of the eagely-awaited final.

Coming into Saturday's final, they were on course to become the first team from northern Uganda to win the Cup but the manner in which they were broken down by a clearly superior and more experienced Vipers side meant they will have to delay that rare fete.
To their credit, Onduparaka showed resilience, character and intention even after falling further behind at the 30th-minute mark. And with a huge backing roaring them on, it became almost apparent that they would find the net, which they did, thanks to a wonderfully taken free-kick by Wahabu.

And in Shaban Mohammed, the visitors had a formidable striker who finishes the competition as top scorer with seven goals.

Despite Onduparaka's spirit, they were facing a Vipers side in no mood of having the Cup elude them at a final for the third time. Twice they came within touching distance of the Cup, but only just, being edged out in 2012 by URA and losing it to Victoria University on penalties the following year.

"We simply can't finish this season without a trophy," said Coach Nsimbe in the buildup, and true to his word, the experienced tactician, who joined Vipers in February this year, has delivered to the club something to smile about.

He received the award for best coach of the tournament as Ssekisambu was named most valuable player (MVP). The fair-play award went to Onduparaka and that of best goalkeeper to Vipers' Ismael Watenga.
Hundreds of Ondupakara fans made the long journey from West Nile region to Kampala to hopefully see history written at Nakivubo: to see their team be the first from northern Uganda to win the Uganda Cup

After a rainy episode, the Nakivubo turf was left damp and a bit tricky for the inexperienced player, but the boys looked steady and sturdy
Erisa Ssekisambu has scored the most goals for Vipers in this tournament, and he was sure to add to his tally with a first-half opener on Saturday
What do you expect from any final duel? Action like this, I bet. This was one piece of entertaining action, with three opening half goals as the centrepiece
This man here, Pius Wangi, found the net once in the first-half, and then again in the second half to all but end the final as a contest. He will be delighted to go into Vipers' book of history as the player who scored the winner for the club's first ever Uganda Cup glory
The two first-half goals by Vipers did quieten the large Onduparaka crowd, who despite their side trailing, remained hopeful for a breakthrough
Security was alert to ensure the final unfolded without incident
A historic achievement for this Vipers side!
By winning the Uganda Cup, Vipers will represent Uganda in next year's CAF Confederations Cup
Ssekisambu was the Most Valuable Player of the tournament
His teammate, Ismael Watenga, took the best goalkeeper of the tournament award
Such celebrations are expected to continue for a long time, especially in Buikwe, where the club is based



ALSO RELATED TO THIS STORY

Onduparaka's journey to the Uganda Premier League