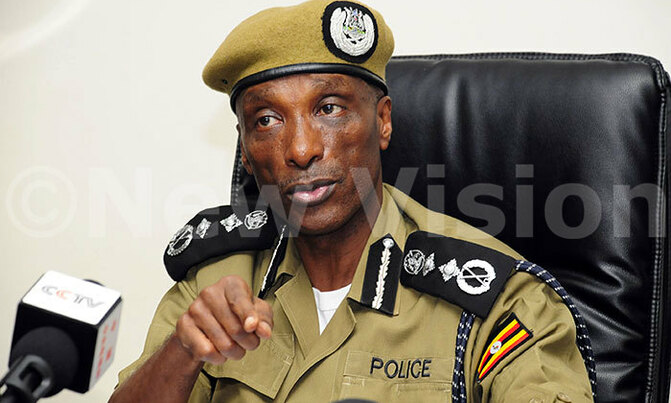 "We have deployed and secured Gulu police station," Kayihura told the press conference.
KAMPALA - Uganda has beefed up security at police and military installations following a raid on Gulu central police station on Sunday by armed men.

The Inspector General of Police, Gen. Kale Kayihura and Uganda People's Defense Forces spokesperson, Lt. Col. Paddy Ankunda, told journalists in Kampala on Monday that security has been stepped up to avert possible raids on facilities of defense forces.

According to police, about ten unknown gunmen travelling in a pickup vehicle attempted to attack the police facility.

But that they were repulsed by the military and police officers after a firefight that lasted about 30 minutes, raising fresh security concerns in a region that bore the brunt of the two-decade-long LRA insurgency.
"We have deployed and secured Gulu police station," Kayihura told the press conference.

"We have also beefed up security at police and army facilities to deal with the activities of these criminal gangs. The other day, similar gangs attacked Kapchorwa Police Station."

The chief of police said there is no evidence currently linking the Gulu raid to any rebel activity although the force has linked the incident to the arrest of the Uganda People's Congress party secretary for mobilization, Dan Odiya Oola.
Gen Kayihura hands over his statement to the police spokesperson Fred Enanga after addressing journalsts on Monday. (Credit: Eddie Ssejjoba)

The attackers, the police said, wanted to rescue Oola - who is facing terrorism and murder charges - from police custody.

The police said they recovered six AK-47 rifles, 1 PK machine gun, 270 rounds of ammunitions, 12 empty magazines, 1 self-loading rifle, 3 pouches, a bow and 8 arrows.

A UPDF soldier was killed while seven, including four soldiers, two police officers and a civilian were injured during the firefight.
Earlier, Aswa River Region Deputy Police Commander Ziku Zata said the injured two police officers and four UPDF Officers were rushed to Saint Mary's Hospital Lacor and Army Hospital at the 4th Division Barracks in Gulu. (Credit: Jackson Kitara)
He said the gunmen abandoned a pickup truck (UAF 350Q), seven guns, 24 magazines with an unspecified rounds of ammunition, seven explosive Yamaha Archery bombs, explosive arrows, a bunch of keys, bags and clothes. (Credit: Jackson Kitara)
Meanwhile, Lt. Ahmad Hassan Kato, the Acting 4th Division Army Public Relation Officer, urged the general public to be security-conscious and provide accurate and timely information on insecurity that can lead to arrest of the attackers. (Credit: Jackson Kitara)