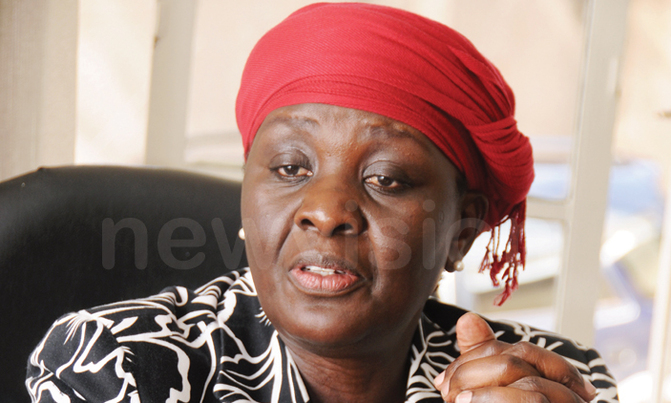 James Pitia Morgan, the Ambassador of South Sudan to Ethiopia, said his country cannot support any other candidate.
Former Vice President, Dr. Speciosa Kazibwe Wandira, has launched her campaigns for the African Union Commission chairperson position, outlining six major points of focus once she is elected for the continent's top job.

Sandwiched by the State minister for foreign affairs, Henry Okello Oryem, on the left and Uganda's Ambassador to Ethiopia, Mull Katende on the right, Kazibwe entered the Radisson Blue hotel in Ethiopian capital, Addis Ababa to launch her bid before diplomats representing all the 54 countries in African Union.

"When elected, I will implement my six areas of focus, especially the goal of silencing the guns on the continent by 2020," she said, urging diplomats that no one would be left behind in the African vision 2063, which maps-out the continent's agenda.

Her six areas of focus include; peace building and conflict resolution, infrastructure development, resource mobilization, member states dialogue and partnership engagement and reforming the existing African Union system.

"The template on where Africa is going is ready," she said, describing herself as "a Pan-Africanist" who is ideologically grounded.

Seconding her bid, James Pitia Morgan, the Ambassador of South Sudan to Ethiopia, said his country cannot support any other candidate for the post because Uganda has presented "a fine and experienced lady" whose stewardship at the AU commission would spur the continent to greater heights.

The purpose of the June 10 meeting, according to Ambassador James Mugume, the permanent secretary of the Ministry of Foreign Affairs, was to sell Uganda's candidate to various AU representatives so that they can brief their Heads of State "appropriately" about the Eastern Africa's choice.

African Heads of State will elect the AU commission chairperson next month during the African Union summit in Kigali, Rwanda.

Uganda gave Kazibwe $1m (Sh3.5b) to traverse the continent to market her 2016-2020 bid. However, some diplomats argue that the money that Government has given Kazibwe to popularize her bid is too little compared to what Equatorial Guinea and Botswana gave its candidates.

On Tuesday, Oryem and Kazibwe will head to Egypt and Algeria to drum up support.

Kazibwe, who said her purpose is to achieve African support, is a member of the African Union panel of the wise and in 2013 she served as the United Nations envoy on HIV/AIDs in the office of the secretary general.

To replace Dr. Nkosazana Dlamini-Zuma, the former Vice President would face-off with Botswana's minister of foreign affairs, Dr. Venson-Moitoi Pelonomi and Mokuy Agapito Mba, the Equatorial Guinea's minister of foreign affairs.

Oryem said Kazibwe brings to the fore a solid background of politics and diplomacy.

"She has facilitated and mediated conflicts in Buruindi, the Democratic Republic of Congo, Sudan and Somalia. We have a rich garden which we can't plough alone. That is why we are calling on all neighbours to support our candidate. We count on your support and endorsement of Dr. Wandira for the chairperson of the African Union Commission," he said.

In a separate interview with New Vision, Kazibwe said the challenge that must be addressed on the continent is that of implementing the various policies and projects that leaders draft.

During her tenure, Kazibwe added, "Africa would no longer be a continent of people who don't believe in themselves."

On the row brewing between some African Union member state leaders and the International Criminal Court (ICC), Kazibwe said the international court would make a difference if there was no African capacity to handle matters related to impunity, human rights abuse and conflicts.

Kazibwe graduated with a Phd in population and global science health from Harvard University. She also has a masters degree in public health and a degree of medicine from Makerere University.