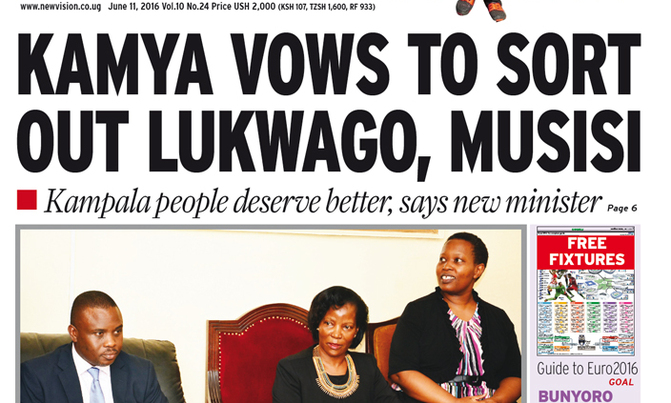 Find all your trendy and exciting stories in today's New Vision
Opio survived a building collapse
On Monday, April 11, Kyaseka Towers, a five-storey building on Makerere Hill Road, came tumbling down, killing seven people and injuring three others. Frank Opio survived but only to start a new struggle with life and the building owners
Uganda pledges to end AIDS by 2030
Uganda has adopted a political declaration by the United Nations General Assembly to end the AIDS epidemic by 2030. This is within the framework of the Sustainable Development Goals (SDGs)
Kazibwe starts campaign for African Union chair
Dr. Specioza Wandira Kazibwe, who has been endorsed by the Ugandan Cabinet and the East African Community as their candidate for the position of the chairperson of the African Union (AU) Commission, yesterday officially launched her bid for the seat.
Besigye's defiance campaign case flops
The hearing of a case in which the Attorney General is seeking to block defiance activities by the Forum for Democratic Change (FDC) and former presidential candidate Dr Kizza Besigye has flopped
And in Homes and Construction
Sh15m can build you a two-bedroom house
Building the home of your dreams means you will get to mold the project from beginning to end. But with this also comes the potential for unexpected expenses and overshooting the budget. Construction is generally looked at as an expensive venture.
And in Sports
The Gold Chase
Ayikoru tips Ugandans to shine at the olympics
Athletics governing body UAF is predicting a good show at the Rio Olympics.
"We are having better preparations than previous editions so we expect a good show," stated UAF secretary Beatrice Ayikoru. Uganda was in the headlines at the last games in London after Stephen Kiprotich won a gold medal in the marathon.
To get more on these stories buy a copy of the New Vision by following the link below
https://vpg.visiongroup.co.ug/flippaper/personal/