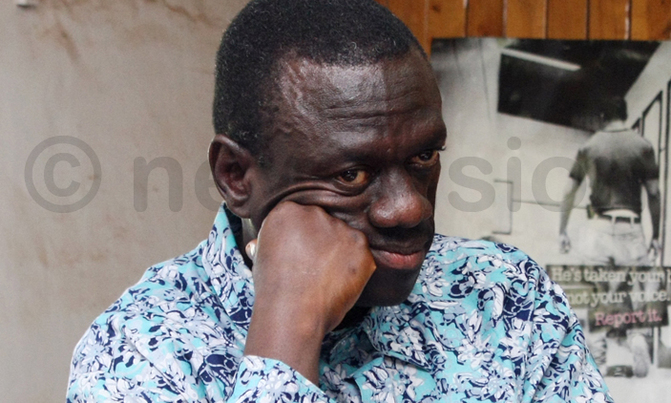 Andrew Ngabirano was arrested after he was found hiding atop a water tank
A suspect arrested for vandalizing the house of former Forum for Democratic Change (FDC) presidential candidate Dr. Kiiza Besigye has been found to be mentally ill.
Dr. Musiimenta Emmanuel, the Rukungiri Municipal principal medical officer revealed to New Vision details of the medical form obtained from Mbarara Regional Referral Hospital, in which the suspect, Ngabirano Andrew, 20, tested positive for mental disorders.
"He has grandiose delusions and needs urgent psychiatric management, his mental condition appears abnormal" reads the medical form dated 6th June 2016.
Ronald Wotwali the District Police Commander said the information they have so far shows that the suspect has a mental disorder adding that investigations are on-going to confirm the medical forms from the hospital brought by the relatives of the suspect as they recorded statements.
According to Wotwali, the Saturday incident drew mixed reactions from different people who suspected that the government was behind it.
"This medical report therefore serves to challenge statements from some people who are FDC supporters that government had a hand in this act" said Wotwali.
"Nakazi Beatrice and Musinguzi Fuderi, both relatives of the suspect recorded statements admitting that their son developed mental disorders in late April and they have taken him to hospitals including Nyakibale, Kisiizi and Mbarara" he explained.
Last Saturday at about 10.30 pm , Police arrested Ngabirano, a resident of Kiyaga cell, western division, Rukungiri Municipality, who was hiding at the top of water tank after vandalizing the house wiring, front burglary proofed door and tiles to the solar systems at Besigye's home located in Rwakabengo cell, southern division in Rukungiri Municipality.
Meanwhile, Gaude Kemigisha the caretaker at Besigye's house also asked police to investigate what she called allegations that the suspect is mad.
"There must be people behind this, and want to disguise like suspect being mad, police should ascertain whether it is true the suspect is mad" she said.
Wotwali however revealed that they are yet to release the suspect but preparations are underway to take him to Butabika Hospital.
Besigye is currently incarcerated at Luzira Prison on charges of treason.