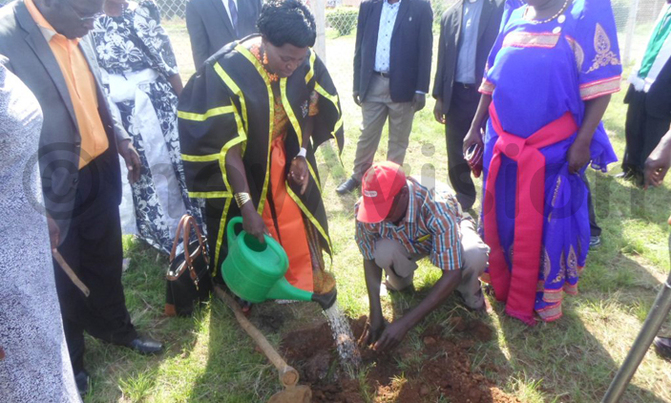 The need for firewood and timber has forced people into forest reserves
Kalangala district on Tuesday cerebrated World Environment Day under the theme 'Plant A Tree To Save The Future Environment'.
The function took place at Kalangala district headquarters and was attended by political leaders and local residents.
Resty Nakawungu the district speaker who was the guest of honour called upon people in the district to stop unnecessary tree cutting because the district is on the brink of losing various tree species if tree cutting does not stop.
"In the few last years there has been a lot of tree cutting to create space for palm oil growth. This has been done by Oil Palm Uganda limited and we the local farmers.
It is now time to use the available space to carry out some tree planting in order to save our district from drought that is likely to come," Nakawungu said.
She added that the need for firewood and timber has forced people into forest reserves, and there has been little restriction set up to stop people from destroying the forests.
"Even the buffer zone on the shore has been affected, all the trees found in the buffer zone have been cut down and NEMA people in Kalangala are just looking on," Nakawungu said.
Nelson Basaalidde head of NEMA in Kalangala pointed out the issue of lack of funds to monitor people cutting down trees. He said there has been little facilitation given to NEMA officials in the district from the head office in Kampala.
"We have only two NEMA police officers in the whole district yet the district is composed of 84 islands that need strict supervision and we try our level best but we end up in vain," Basaalidde said.
The function ended with the planting of various tree species like the Musizzi tree, mangoes and various other tree species.
Since 2003, Kalangala district started experience deforestation and since then most of its forest cover like the one that used to be Buggala, Bunyama, Funve and Bubembe islands, have been cut down to open space for palm oil growth and rice plantations on islands like Bufumira and Buyovu in Bufumira sub county.