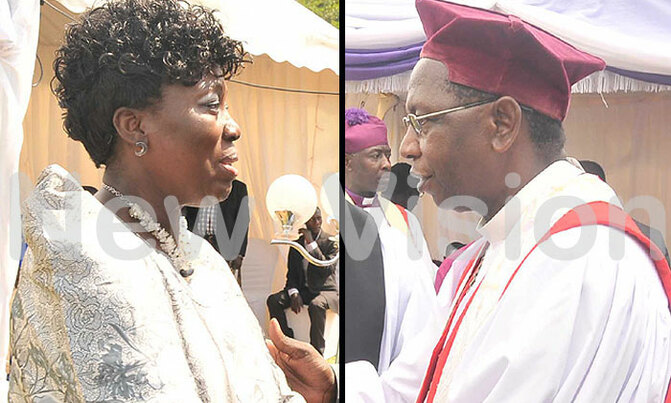 During the function, Ntagali again rebuked Ugandans for worshiping idols and small gods.
MUKONO - The Archbishop of Church of Uganda, Stanley Ntagali and the Speaker of Parliament, Rebecca Kadaga met in public on Saturday for the first time since rebuking her for visiting a shrine recently.

The duo met at a function that had Bishop James William Ssebaggala of Mukono Diocese marked five years as bishop, 31y ears as a priest and 25 years in marriage.

This was at Bishop's Senior School, Mukono on Saturday.

After winning a second term as Speaker of Parliament, Kadaga visited a shrine in Busoga reportedly to thank her ancestors for victory.

The move drew a lot of public reaction, with Archbishop Ntagali and the Church also being critical of her and immediately releasing a statement condemning the action.

In the statement, Ntagali noted that there was no need to go through spirits of the dead because "Jesus is our hope and protector and that He alone is the way, the truth and life".
Archbishop Stanley Ntagali serving Bishop Ssebaggala and his wife Tezirah the Holy Communion. (Credit: Henry Nsubuga)
Parliament Speaker Rebecca Kadaga congratulating Bishop Ssebaggala and his wife at their silver jubilee celebrations. (Credit: Henry Nsubuga)

Now the two leaders met in Mukono and sat in opposite tents. During the function, Ntagali again rebuked Ugandans for worshiping idols and small gods.

In her tent, Kadaga sat quietly and listened on attentively.

Ntagali said the lives of people who worship small gods are like flowers that can "appear very beautiful today and wither tomorrow".

The church leader said the reason why rich people in Uganda and on the globe live a miserable life is because of their ungodly ways, like worshiping of the devil.

Shortly after Ntagali's speech, Kadaga was given a chance to address the congregation and journalists ran to her tent, hoping she would hit back.

But the she avoided anything to do with the topic and politics, speaking only about her friendship with Bishop Ssebaggala that had made her abandon everything she was doing to ensure that she attended the celebrations.