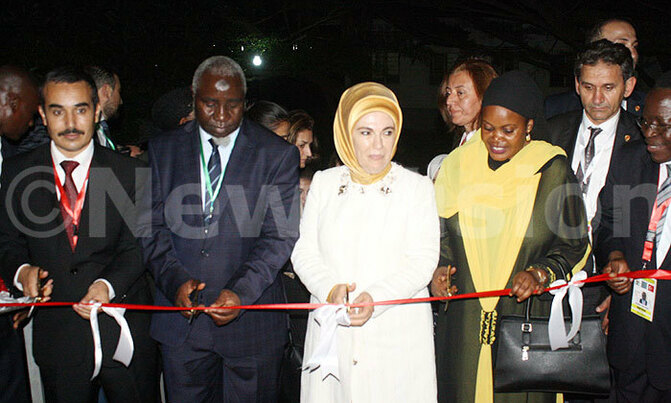 "I do hope that within a short period, Uganda's handcrafts will be on display, particularly from IUIU."
PIC: Mrs Emine Erdogan, gender and culture minister Rukia Nakadama and IUIU rector Dr. Ahmed Ssengendo (2nd-L) and other officials cut the tape to launch the tailoring block at the IUIU Kabojja campus. (All photos by Meddie Musisi)

WAKISO - The wife of Turkey's president has launched a tailoring training centre at the Islamic University in Uganda (IUIU) female's campus to help improve the skills of the girl child.

Speaking during the event held at Kabojja in Wakiso district on Wednesday, Mrs Emine Erdogan said Turkey has a humanitarian respect to Uganda and it is dedicated to support its development efforts.

"I am greatly honored to be with you in your beautiful country. I believe our visit will strengthen the relationship among us," she said.

She said Turkey is eager to make a solid brotherhood with Uganda and many Turkish organizations have already been established, like TIKA and SENA.

Mrs Erdogan also donated four mobility scooters to four disabled people.
Hellen Gimbo, one of the beneficiaries of the mobility scooters, has a feel of it, helped by Mrs Erdogen

She said that while traveling with her husband President Recep Tayyip Erdogan on various occasions, she was closely monitoring the challenges women faced, prompting her to focus on women empowerment and the deprived people.

Last month (May 25), an African handcraft market and house of culture project was initiated in Turkey's capital Ankara aimed at finding a steady and good market for the products made by the African women from 18 countries including Uganda.

"We strongly believe that Turkey's 21st century is going to be for Uganda and African countries," said the first lady.
Minister Nakadama and Mrs Erdogen pose for a photo with the beneficiaries of the mobility scooters the Turkish first lady donated to them

She donated 32 sewing machines to the tailoring training centre of the institution and implored Ugandan women to be innovative in terms of handcrafts because the market for the products has already been established in Turkey.

"I do hope that within a short period, Uganda's handcrafts will be on display, particularly from IUIU."

The money from those products will be brought back in the country for investment, added Mrs Erdogen.

Gender and culture minister Rukia Nakadama commended Mrs Erdogan for her commitment to supplement the government's efforts in educating the girl child particularly through donation of vocational facilities.

"On behalf of the government, we appreciate your focus on the vulnerable persons with disabilities [PWDs] in the areas of accessibility. The donation of the four automatic scooters has greatly impacted the beneficiaries and it will ease their mobility in the community," said the Ugandan minister.
IUIU rector Dr. Ahmed Ssengendo hands over an award of appreciation to Mrs Erdogan for her support towards IUIU
IUIU guild president Shahali Mugamba (front extreme left), was at the function

Nakadama said that the government attaches great importance to the empowerment and promotion of the rights of PWDs and has put in place policies and legal frameworks to address their issues under her ministry to enhance their inclusion.
Nakadama noted that despite the government's efforts in the education and development initiative towards the inclusion of the deprived people, the girl child still face barriers to education like poverty, child labor, teenage pregnancies and child marriages.

"Turkey is a great country and any country that associates with it stands to gain. We thank TIKA and SENA for the support they have extended to IUIU including the donation of the tailoring project to our female campus," said IUIU rector Dr. Ahmed Ssengendo.

He said that besides launching the famous campaign codenamed 'Come on girls, let's go to school', Mrs. Erdogan has also partnered with various first ladies especially in Africa to encourage women to take part in business and political affairs.

The university also awarded her husband with the international humanitarian champion award and an honorary doctorate to be received at the time of his convenience.