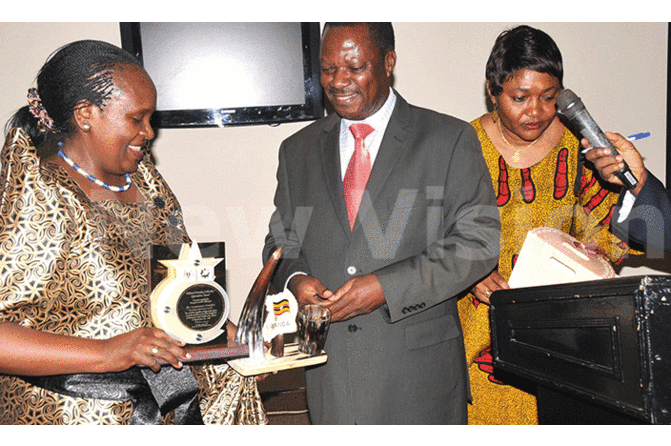 Fundira's three years' of service to Uganda were called off, after she was transferred to new Nation South Sudan, to help develop on their programme.
Youth and leaders, paid tribute to former Country Representative of the United Nations Population Fund UNFPA ,Esperance Fundira at Protea Hotel. Fundira's three years' of service to Uganda were called off, after she was transferred to new Nation South Sudan, to help develop on their programme.
"You have taken us to a different level, thanks for your leadership in the field of population and reproduction health. You have been a strong pillar and the recent census results shows that we are in the right direction," said Jotham Musinguzi, the director of the National Population Council."Ever since you came, the funding in the population Council has been increasing and so are the results. We are very blessed to have worked with you."
UBOS Executive director Paul Munghereza noted that Fundira was instrumental in seeing that this census takes place after being postponed twice. "Preparing for the census was so demanding and straining but she gave us hope, went were we could not reach, mobilized the local development partners and even ensured that we have expatriates to help us with the work. We are very grateful," he said .
He also promised to help her where she was heading to. "We have been working together with South Sudan and we are ready for any help needed."Jackson Chekweko, the executive director of Reproduction Health Uganda noted that her footprints have left a mark in Uganda.
"She supported us in having the first family planning conference and she leaves when we have a National Planning council. She has been across the country and most notable, she was in Sebei running to end Female genital Mutilation. She loved what she was doing with a passion," he said.
State health minister for general duties Chris Baryomunsi, former UNFPA country representative Esperance Fundira and South Sudan Consul Emmanual Tombe toast at Protea
Dr. John Ssekamatte-Ssebuliba of the National Planning Authority also noted her hand in making the Demographic Dividend Report, which has become reference point to most of the regional countries. Her workmates all praised her for not only being a mother but a guide, friend and mentor
"You have shown that leadership is not about titles but the impact you have and the relationships you have built. We will miss you," said Prossy Nakanjakko in the communication department who spoke on behalf of her fellow workers.
While State Health minister in charge of general duties Chris Baryomunsi noted that she has raised the stature on UNFPA in the country. "The results are there for all from the speeches you have heard."It was so humbling that when she stood up to speak, she was already overwhelmed by the tributes. "At times I believe that they are not speaking about me. I know everything is about people, about relationships and achieving goals. I would have done nothing without all your support," she said.